Culted members are still as far, but the band however offers a third album.
Entitled Nous ("us" in french), it united again Canadians Kevin Stevenson (drums), Mike Klassen (guitar/bass/keyboards/percussions/noises) and Matthew Friesen (guitar/bass/keyboards/percussions/noises) to Swedish Daniel Jansson (vocals/ambiences).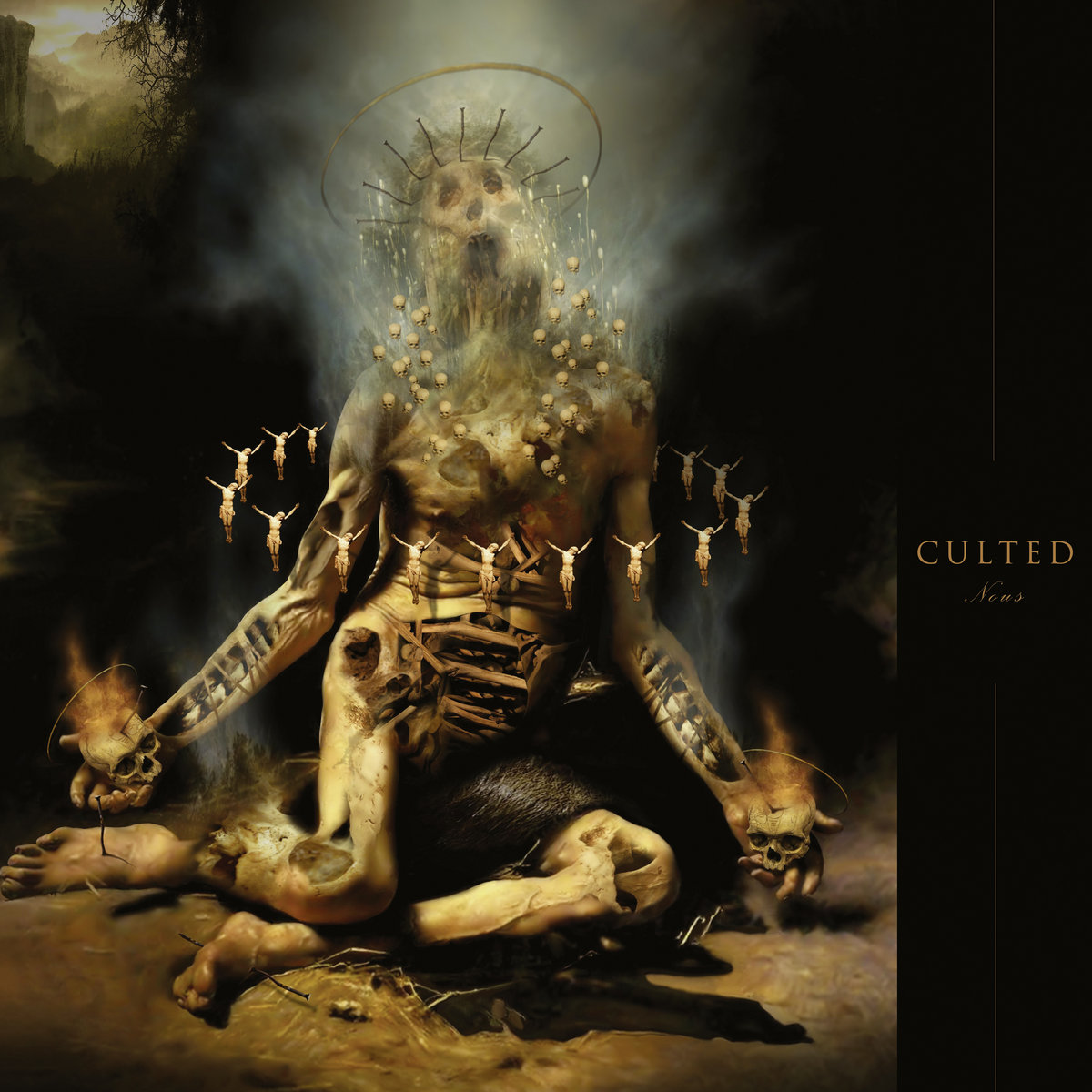 Pandemic doesn't bother Canadians nor Swedish, because the band members are used to work remotely from their sound's very beginning, between unhealthy Black Metal, solid Industrial Metal, weighing Doom Metal and intriguing noises. The album was made in a cathartic way after personal issues in musicians' life, and it's impossible not to feel this blackness and this oppression through the hour of music that composes Nous. The artwork also fits the suffocating ambience of this album, because it represents St Anthony's temptation when he crossed the desert.
Culted's sound offers us to abandon our religion, our will and above all our reason to those heavy and heady tones as well as those howlings in the background. We discover this strange universe with Lowest Class, a weighing and raw song, that doesn't hesitate to play with a warlike coldness as much as with a fascinating blackness, while the dissonant Lifers calls as much a heavy Black Metal as disturbing noises effects. One Last Smoke and its sound fog offers some deep melancholy and languor, then the band goes to more melodic tones with Ankle Deep, a song of which soft introduction will be completed by an impressive rhythmic. Once again the contrast between mild sonorities and dark saturation strikes on Black Bird, a song with psychedelic effects, but also on Opiate the Hounds, a black and gruesome composition. Maze's slowness and length makes us get lost between those several complementary influences, those dark rantings and those stunning effects, while Crown of Lies shrouds us into a strange mist before crushing us under simple but solid riffs, then The Grid comes to melt again shrilling larsens and a thick rhythmic. Riffs seem to be impenetrable, only weathered by dissonant effects, then Indus influences make this dark mass move forward before Crush My Soul. This last composition seems to be softer, but as disturbing and intriguing, playing on dissonant parts, howlings from the void and chaotic effects to close the record.
Beware of Culted. The band's sound seems to live through Nous, sometimes taking the shape of a heavy and dark rhythmic, while the next moment disturbing noises come to haunt our mind. Dissonance never really ends.
85/100