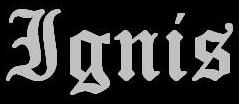 When a band begin, it's sometimes hard to make a name within a scene, and to have the right support. Hence, the russian band Ignis decided to remaster their first full-length, Sic Transit Gloria Mundi.
Founded in 2011, the band involves DM (his real name is Dmitry, he is also The True Nihilist's leader) on bass and vocals, VV (Vasily) on drums and EK on guitar. The band quickly starts to compose and release an album, Sic Transit Gloria Mundi (latin locution for "So, the glory of the world") in 2013 then two EPs, II and Phaeton. We had no news from them until they announce their album's remaster, which also have the first Ep's tracks and a new song. Let you drive by the russian's Black Metal.
The record starts with Primus Inter Pares, a composition that melts together Black Metal's unhealthy sound and Doom Metal's languor. Rhythm part bursts into fire since the beginning, and finally welcome DM's stunning and plaintive screams. Even if they sound a bit far from the scene's codes at first, they actually perfectly fits to the band's riffs filled with hatred and sadness. The atmospheric break allows a bit of rest before sinking again in darkness. The second track, Sic Transit Gloria Mundi, develops a terrifying and bleak universe duting more than twelve minutes. Way slower than the last one, this song also allows them to include some airy harmonics that give the music a really particular taste. While we think it's over, rhythmic part restarts with a drum pulse. More violent, Wild Hunt allows the singer to unleash himself under a blast beat torrent that will only cease to morph into a peaceful moment. But the unfurling wave quickly comes back and will definitively be over with the end of the song.
To The Shining Of Black Spheres begin with very dissonant riffs that won't let us doubt about sharp riffs that will come. Quieter parts highlight despair into screams, while Exultation Of Winds heads back on a more violent aspect of the band's music. This contemplative song emits an anger in both vocals and riffs that I didn't feel in the other songs. The full-length ends on the long Meet The Savior! that enters with a really dissonant guitar on a slow rhythmic. Even when drums speed tempo up to become a mad blast beat, this slowness remains. It will disappear a bit on the middle of the track to strongly come back and become a real languor, while the track ends on a chaotic and worrying sample.
Ignis offers a really instructive experience with Sic Transit Gloria Mundi. This sink into darkness allows to feel the different emotions that the band's riffs are filled with, and there's an instant transmission. This re-release through Depths of Void label will probably make them earn a more important reputation as well as being able to be known outside of their homeland.
80/100