If there is only one band that doesn't spend limits or rules to mention, it is Sigh.
Created in Japan in 1989 under the name of Ultra Death (they changed in 1990) by Mirai Kawashima (vocals/keyboards/drums/folkloric instruments, ex-Cut Throat, ex-Necrophagia) and Satoshi Fujinami (bass/ex-guitarist/drummer/percussionist), the band begins with a Black Metal with an Extreme and Avant-Garde sound. They will later be joined by Junichi Harashima on drums in 2004 (ex-Hellchild, ex-Gonin-Ish), Dr. Mikannibal, Mirai's wife, as second vocalist and saxophone in 2007 and You Oshima (Kadenzza)  on guitar in 2014. That's Heir To Despair, the band's eleventh record, that is now released, considered as "extremely personal" by the band's leader, and with Kevin Masaya Kmetz (God Of Shamisen) on shamisen for some tracks. Something special, if we include their 1997 EP's initial, we can read SIGH three times with the beginning of all full-lengths. Are you ready for an unprecedented experience?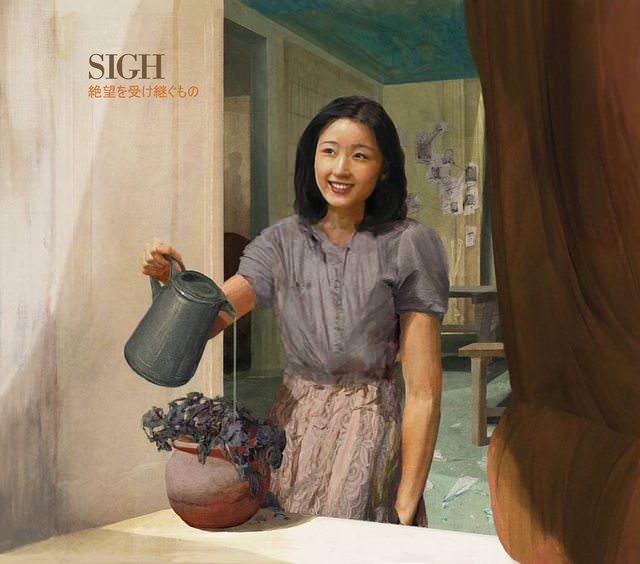 Aletheia is the first track of this enigmatic album. The rhythmic is really catchy, even if really original due to bass' sound, but also with those "unusual" instruments and vocals, a bit far from the genre's standards. But once accustomed, we clearly feel Folk influences, strange parts, more modern electronic sounds… but this blend is amazing! Guided by two powerful voices, it's with a noisy outro that we continue on Homo Homini Lupus, that features Phil Anselmo's vocals (Down, Scour, ex-Pantera, ex-Necrophagia, ex-Superjoint Ritual…). The rhythm is way more epic, but the japanese's touch remains and allow them to melt a crazy Black Metal rhythmic with other instruments and resulting in an extremely rich and interesting track. On the chorus, Phil Anselmo's throaty voice joins the two singer's ones to create a raw sound. Raw is also the perfect word for Hunters Not Horned, when rhythm doesn't overlaps modern keyboards. Saturated vocals also meets clean vocals for a vivid contrast.
The album continues with In Memory Delusional, a track that combines Black Metal's fastness and velocity that Sigh are known for, coupled to clean-singing vocals and unhealthy as hell parts. To this blend, we add more technical parts, even Progressive sometimes, but staying in the japaneses' style. You will probably be surprised by Heresy I: Oblivium. Starting as an ambient composition with electronic hints and faraway voice, guitar progressively comes back, imposes itself then leaves again. A more disturbing voice comes in, rhythmic resumes… Does this track oppress you? So just wait for Heresy II: Acosmism to be really queasy. While make us sink into a real horror movie, the composition explores a large sound spectrum: saxophone, samples… Heresy III: Sub Species Aeternitatis begins as a lullaby but will end on the true incarnation of evil.
Let's go back on something more conventional with Hands Of The String Puller, a very Black Metal song with Progressive, but also Psychedelic elements that give the track a very particular sound, also due to the vocal duo and folkloric instruments. Last but longest song of the record, Heir To Despair stays on a martial basis with the band's usual additions. Fully instrumental in the first instance, rhythms softens and vocals come in. The whole song takes on this dancing tune but with this remaining dark aspect, and I didn't feel time passing by until this nightmarish ending.
The whole thing could seems to be strange, but that's what we love in Sigh, what urges us to replay Heir To Desepair again and again. Way less accessible than the previous records, it will therefore delight the more open-minded listeners, and never lets place to fluke. I cannot wait to discover this album on stage with, I hope so, their great come-back on french stages!
90/100