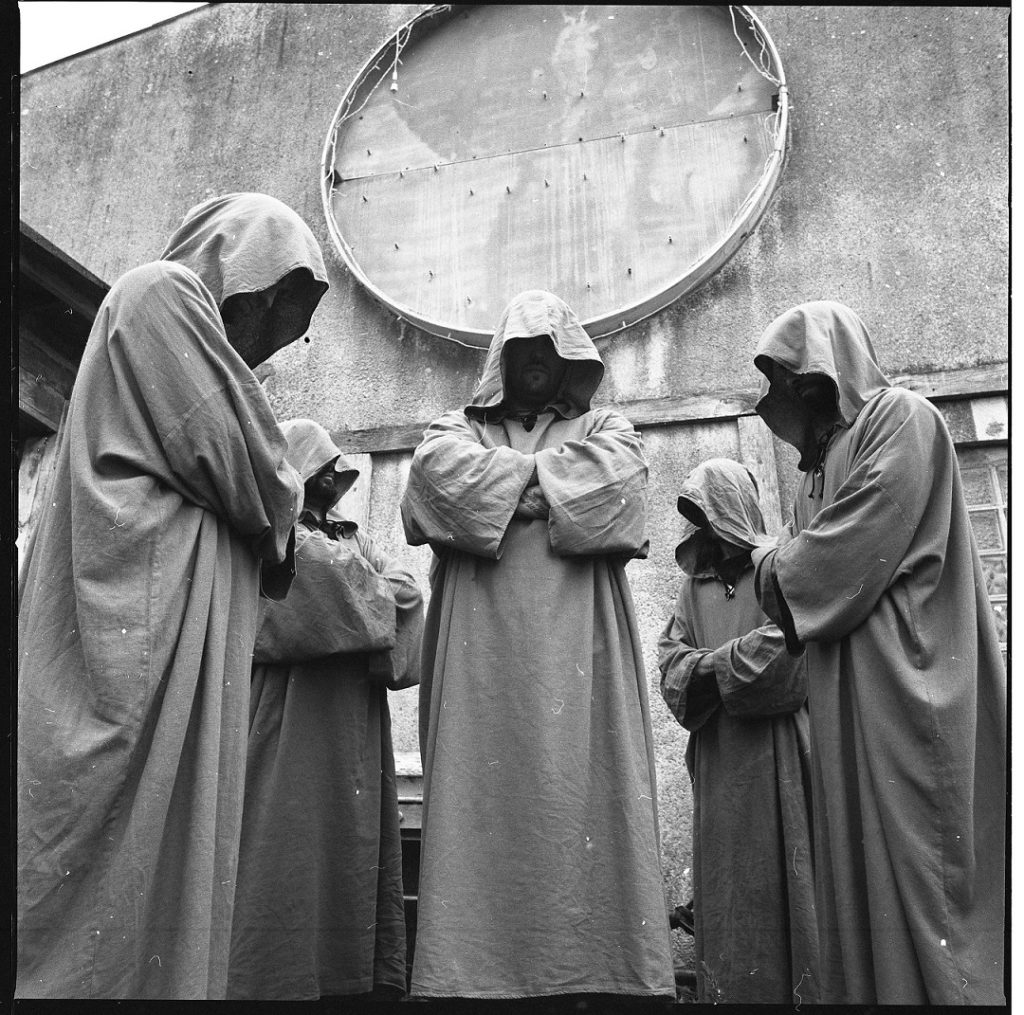 Révérend Drope, Druids Of The Gué Charette's singer, confessed to me before the release of Talking to the Moon.
Hello and first of all, thanks for taking a bit of your time for my questions! Could you please introduce the band's concept to someone who never heard about you?
Révérend Drope (vocals): Druids of the Gué Charette are an amplified music band at the crossroads of Stoner and Garage Rock, with huge Post-Punk, Psychedelic and Heavy Metal influences. The band set them apart by a mystical approach of the music, that can be understood by using ritualistic outfits on stage and cryptic lyrics in songs.
How Druids of the Gué Charette was formed? Did you all have the same opinion about music when you created the band?
Révérend Drope: The idea behind the Druids was to federate members from different bands from a small area located near from Brocéliande, in an informal way, but quickly the band was structured around a main core of musicians until its actual final form. By nature, we all have various influences we tried to respect everyone's wishes, harmonizing our music around common influences.
Your style is composed of many influences, from catchy Stoner to unhealthy sounds, with a good spirit and some Psychedelic accents, how did you get the idea to melt everything together?
Révérend Drope: As I said earlier, it was individual influences that we melted into one single project. To be honest, we all were already playing in bands with some kind of uniform influences, and switching to a style from another in the same song was one of the band's main concept. We were tired to hear what a band can or cannot do to fit to one style or another. So we decided to never set boundaries, whatever we flirt with good taste's limits.
Your album Talking to the Moon is about to be released, did it meet your expectations? Do you worry about the audience's feedback?
Révérend Drope: We're really proud of the album, that we tried to make sound the rawer and the most live-sounding possible. We don't really worry about the audience's feedback, we perfectly know that we cannot please to everyone and that some people will hate what we do, but I think that there's nothing worse that trying to please to everyone, it's the best way to create something insipid. We always try to like the song ourselves, personally, before everything else, and when we do that, we hope that people that share our tastes and obsessions will be in line with our album. The hardest part is to find those people and bring the CD to their ears (laughs).
How did the composition process happen? Was it different from your last productions?
Révérend Drope: As I said, we thought this album as a reaction to our live shows, in which our Punk and violent side usually comes back and tends to dominate everything. So we decided to highlight the more nervous and faster songs, and we restricted the amount of arrangements to keep this raw side. There are still some breaks, from heavy airy Psychedelic to swerving Krautrock or Blues, but a majority of the songs are some kind of fuzz flood in three minutes, where our previous albums focused more on variety than coherence.
What does inspire you to write music or lyrics?
Révérend Drope: Musically, everything inspires us, from cds we listen, concerts we attend, bands we play with, but also films and books that give birth to some pictures, ambiences we will try to reproduce in our way. Lyrics directly come from music. They're always written to respect and highlight as much as possible pictures that the composition gave birth to.
Can you tell me the story behind The Curse's video clip? How was it recorded, what the main idea…
Révérend Drope:We worked on The Curse's scopitone (special kind of video clip, ed) with realisator Anthony Rocquet, because he was sensitive to our music and the imagery the band brings. The idea of the clip was to shoot some kind of initiatic rite that allows the main character to become a member of the Gué Charette cult in turn. We like a lot to play with this idea of indoctrination and contagion by music. We also wanted to showcase some of our recurring ideas, like the forest omnipresence, altered reality, as well as a spiritual quest and hidden place that you can already see in Agartha's video on our split LP, of which The Curse could be seen as a direct sequel.
You should have already answer this question several time, but what is your relation with both druidic universe and the Gué Charette?
Révérend Drope: First of all, we're not members of the Gorsedd de Bretagne (Fraternity of the Druids, Bards and Ovates of Brittany, association, ed) or any kind of official organization. Druidism in our music is mainly a way to spotlight a mystical and spiritual dimension, while focusing on our region's fantasy and affiliated values. This truth hidden to the living resounds well in the psychedelic and the druidic approach. The Gué Charette is a locality nearby Brocéliande, that our spiritual guide designated as the focal point of our culture during a drinking night. It's a funny way to geographically locate ourselves but that accentuates once again our affection for those secret places, only known by a few.
Following to the Covid-19 epidemic, Hellfest and Motocultor 2020 are unfortunately cancelled, but you're rescheduled on the bill of Motocultor 2021 instead of 2020, how does the postponement happen inside of the band? What do you expect from the festival?
Révérend Drope: As soon as the festival had to make its cancellation official, they immediately took the bias of rescheduling the announced bands for next year. There's a strong possibility that most festivals will do the same. So we expect to be rescheduled at Hellfest 2021 too, as well as on one or two other festivals which didn't have time to announce us this year. Festivals are always a very special moment, that allows bands to hit publics that are not specifically here for them, it's both stressful and exciting at the same time.
While we're talking about it, what was your routine as a band during containment? Were you more productive than usual?
Révérend Drope: Due to containment, we had to brutally stop our weekly ritual rehearsals and cancel almost ten shows. It's hard to say we were more productive than we would have been usually. However, we took advantage of this time by learning how to work remotely, which is a different way to do, learning how to use sound cards and recording or mixing softwares, what we never tried before. Future will tell us if this learning phase can be useful, because our musical practice goes hand in hand with amplificator sounds slashing the air and bass vibrating in the ground, feelings that are hard to find when you just plug a guitar to an USB slot.
You come from Brittany, a region known for both bands with strong musical personality, but also its gastronomy. What if you had to associate the band with a meal?
Révérend Drope: (laughs) I'm not a specialist about culinary metaphors, but what comes first to my mind is the godinette, a local aperitive drink from the Gallo (eastern Brittany, ed). At first sight is seems to be inoffensive, but the recipe contains a secret ingredient that can quickly hit hard.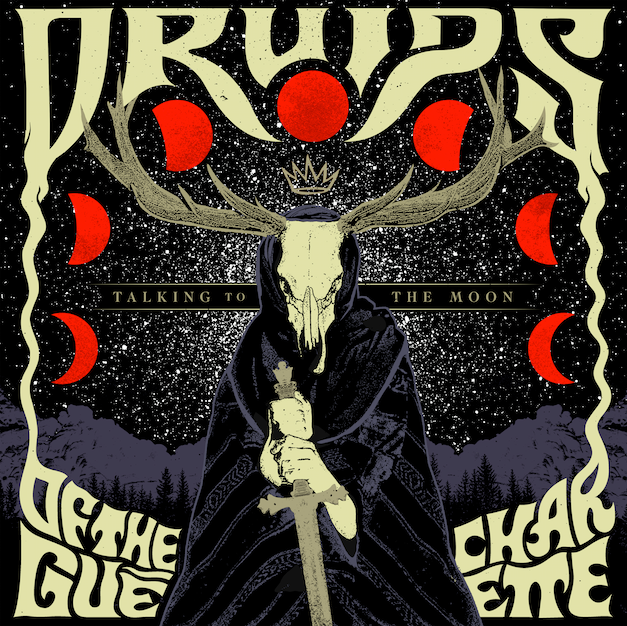 What is your best and your worst live memory?
Révérend Drope: Our best one is probably our set at Binic Folks Blues Festival, we had never played in front of so many people, we were quite unknown, however, there were people as far as your eyes can see, it was surrealistic for us. There is no really worst one, but once in Rennes, we played four hours late, during the night, backline was supposed to be here but it was not anymore, the place was so small and packed that drunk people were nearly on stage, wresting cables and pouring beer on pedalboards. It was probably our most chaotic show, but in the end it's a pretty good memory.
Which was the first Metal song you ever listened? And which was the one that made you think "this is what I want to do!"?
Révérend Drope: It would be hard to identify the very first, and it also depends of what you define "Metal", it would be impossible for me to precisely tell you the first time I heard Deep Purple for example. However I would say that the first time I realised that a song was apart from Classic Rock, it would be with Rage Against The Machine's Killing In The Name when I was in middle school. The first time I thought "that's what I really want to do" was with a Heavy Metal song, it must have been with Black Sabbath's N.I.B.
An imagination question now: I allow you to create a tour with three other bands (whatever their fame) for which you would love to open with Druids of the Gué Charette !
Révérend Drope: There are tons of bands we would love to open for. But to tell three kind of bands that would totally embody a different kind of musical shamanism for us, I'd say Electric Wizard, A Place To Bury Strangers and Nick Cave & The Bad Seeds.
Do you have a musical crush at the moment? Or a band that you just discovered?
Révérend Drope: A friend just introduced me to a Kansas trio named Snowchild, that released in 2016 a perfectly Sabbath-like Doom album with some hints of Space-Rock from Hawkwind, four ten-minutes long tracks that are high as fuck. Absolutely the kind of stuff I like to hear now!
Lasts words are yours! Thanks again!
Révérend Drope: In night, truth.