After an exceptional show with a symphonic orchestra, Septicflesh decides to release Infernus Sinfonica MMXIX, the video footage.
Created in 1990 in Greece, the band quickly focuses on Death Metal with unhealthy and mystical influences. In 2003, they go on hiatus for four years, but 2007 marks Spiros "Seth" Antoniou (bass/vocals, ex-Chaostar, ex-The Devilworks), Christos Antoniou (guitar/orchestrations, Chaostar, ex-The Devilworks), Sotiris Vayenas (guitar/lyrics, Aenaos, ex-Chaostar) and Fotis Benardo (dums, Necromantia, ex-Chaostar, ex-The Devilworks)'s comeback. Fotis will be replaced in 2014 by Kerim « Krimh » Lechner (drums, Eboncrown, Krimh, ex-Decapitated). As always with Psychon, their live guitar player since 2009, the band is ready to make history.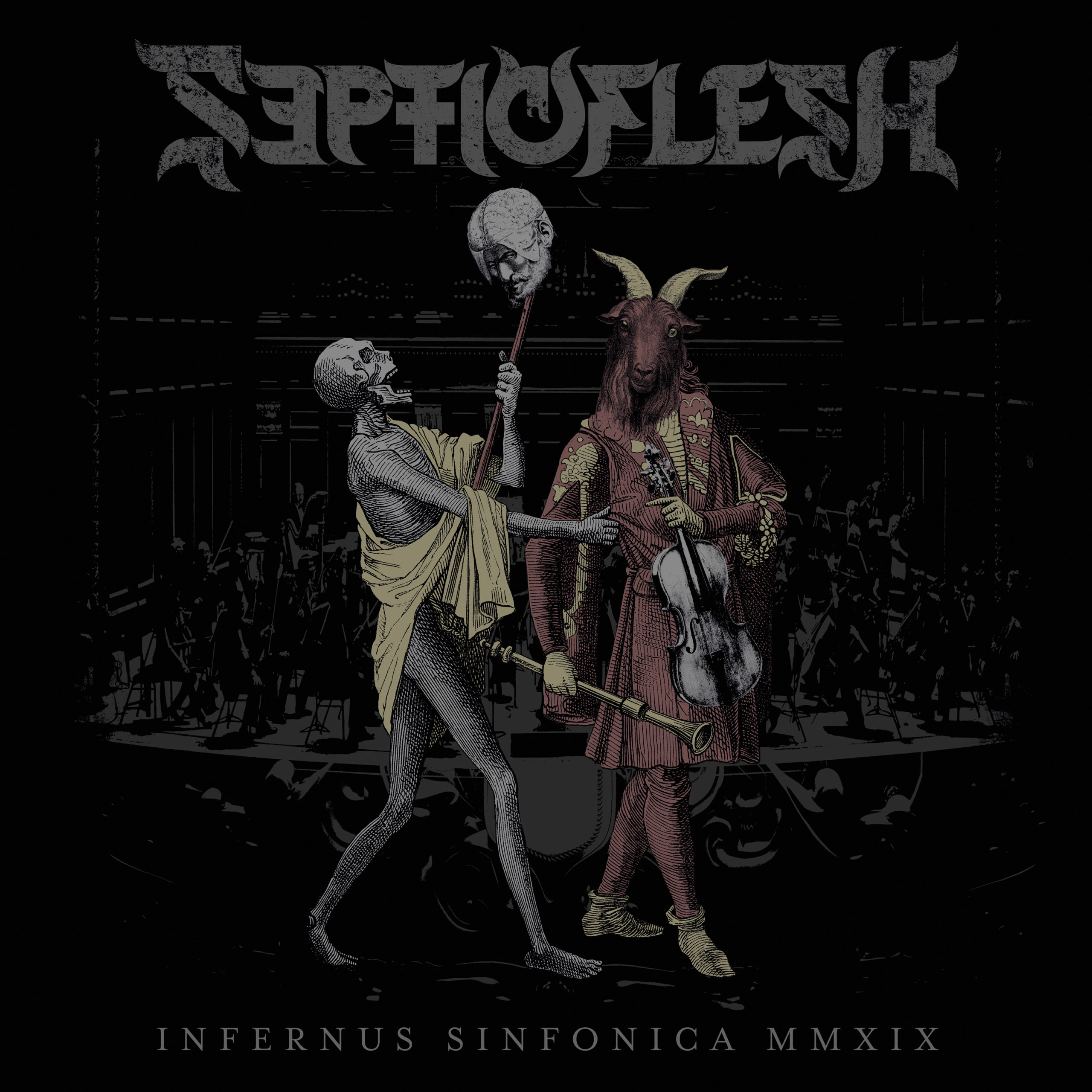 Whether you already saw Septicflesh on stage or not, you will be impressed by the firepower deployed in Mexico's Metropolitan Theater, and the means deployed to sublimate the concert. About the setlist, there is no big surprise: the greeks doesn't really change it, sometimes they make it longer depending on the time they got to play. After this beautiful introduction by the symphonic orchestra, we expect those wonderful classical tracks since their rebirth that the five musicians, gathered by choirs and chords, play one by one. Five, you read that right, because even if he steps back from touring, Sotiris Vayenas is here on stage, deadpan, to offer us his clean voice, completing Spiros "Seth" Antoniou's raging howlings, and his vocal capacities are pushed at their best tonight. As always, Christos Antoniou, Psychon and Kerim « Krimh » Lechner unleash a solid rhythmic on each of the fourteen tracks of their set, from beginning to end. Their stageplay is still impressive, letting musicians to headbang on their position while they play their riffs with a devilish accuracy, or allowing the frontman to scream at the crowd, captured since the first song. Orchestral breaks are literally magical, just like on Portrait of a Headless Man or Martyr. No crowd movement because of the venue's configuration, but the audience is captivated by the musician's performance, who are fully involved in their show. Sotiris lets the band play as they're used to, only reappearing when songs needs his clean voice while tracks go on. Prototype, the divine Pyramid God and its wonderful orchestral parts of which insane depth increases again, Enemy of Truth, the smashing Communion or The Vampire from Nazareth, which needs clean vocals on the crushing final part. Prometheus is the next one, and like on every show, it is a perfect communion between the band and their fans. Without a single tiredness sign, Lovecraft's Death is the next one, more brutal, more massive, visceral and worrying. Once again, the audience show they're involved too, just like on the dark Dante's Inferno with its magnificent final part and the violent Persepolis that also reveals a new aspect thanks to the orchestra. Special mention to this ice-cold voice that announces the melodic final part.
After a short moment of rest, A Great Mass of Death falls upon the theater, offering a dose of raw power and a dark beauty at the same time. A song of which intensity gradually grows, and the climax is reached on the final with two voices. But the band is not ready to leave yet, because the federative Anubis is the next one, between voices, instruments and an attentive crowd. Even if I always hear it during live shows, I am truly happy to see that one of my favorite tracks reaches such breadth. The band closes its set with Dark Art, one of the band's most recent songs, but that allows them to please the audience once again thanks to their magic.
Even if Metal shows with orchestras are not new, Septicflesh's one is extraordinary. Their music, based since the creation on this contrast between Death Metal's raw violence and Symphonic beauty, comes alive before our eyes during more than an hour thanks to Infernus Sinfonica MMXIX, a must-have for anyone who likes the band.
90/100