Kataklysm, canadian Melodic Death Metal titans, surface again with Unconquered.
Created in 1991 by Maurizio Iacono (bass from 1991 to 1998 then vocals, Ex Deo) and Jean-François Dagenais (guitar, Ex Deo), the band plays an uncompromising Death Metal that progressively turns to Melodic Death Metal. The line-up is completed by Stéphane Barbe (bass since 1998) and most recently by James Payne (drums, Hiss from the Moat, ex-Hour of Penance, ex-Vital Remains), after Olivier Beaudoin's departure (ex-Ex Deo). Notice that he recorded this fourteenth album with the band.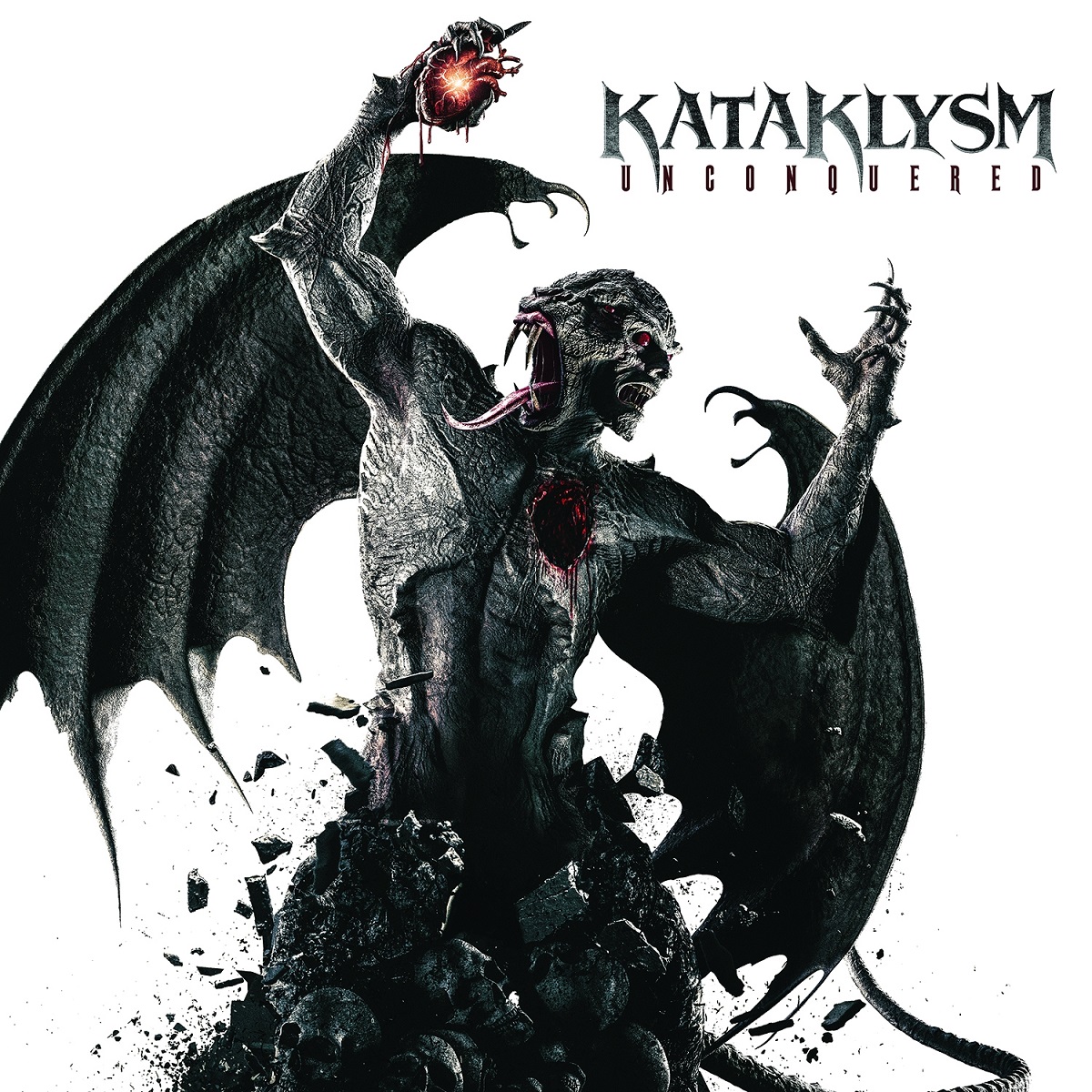 A soft and melancholic introduction prepares us for the main impact. Named The Killshot, the song is massive. A mammoth sound, raging bass, aggressive drum, and those very stimulating vocals, that sometimes melt growl and piercing scream. The band is in great shape, and we can also notice it on the ice-cold Cut Me Down, featuring Tuomas Saukkonen (Wolfheart, Dawn of Solace). Riffs are as sharp as melodic, and those heady leads will haunt you for a long time! Underneath the Scars confirms this modern approach of the band's sound, with an insane groove and this permanent touch of rage. Headbang will be mandatory for Focused to Destroy You, a vindictive song that lets place to soaring elements as well as pure strength. Musicians are unleashed but still keep this melodic aspect.
Tempo slows down for The Way Back Home, a more quiet song but as smashing, that offers an enchanting atmosphere. Leads wonderfully add themselves in this wall of sound that sometimes speeds up. Beware to the break. We go back on this melting between melodies and wrath for Stitches, a song that seems to pick into Djent. The chorus is once again catchy as hell, and you will have it in your mind very fast. Darker, Defiant plays on both fastness but also some more technical parts, mainly about guitar. The basis is still greasy and heavy, and vocals add this characteristic element of the band. The ambience changes for the melancholic Icarus Falling and its keyboard introduction. The song is beautiful, and will freeze your blood in a second, transposing this magnificent melancholy until the lower riffs. This middle part is a true punch in the stomach. Last song, When It's Over offers a quiet introduction before reconnecting with melodic and catchy sonorities that alight on the heavy basis.
Far from resting on their laurels, Kataklysm still creates the surprise. To this catchy Melodic Death Metal basis, Unconquered adds new tones, cold, dark riffs, melancholy, but keeps this rage. You will be conquered.
90/100