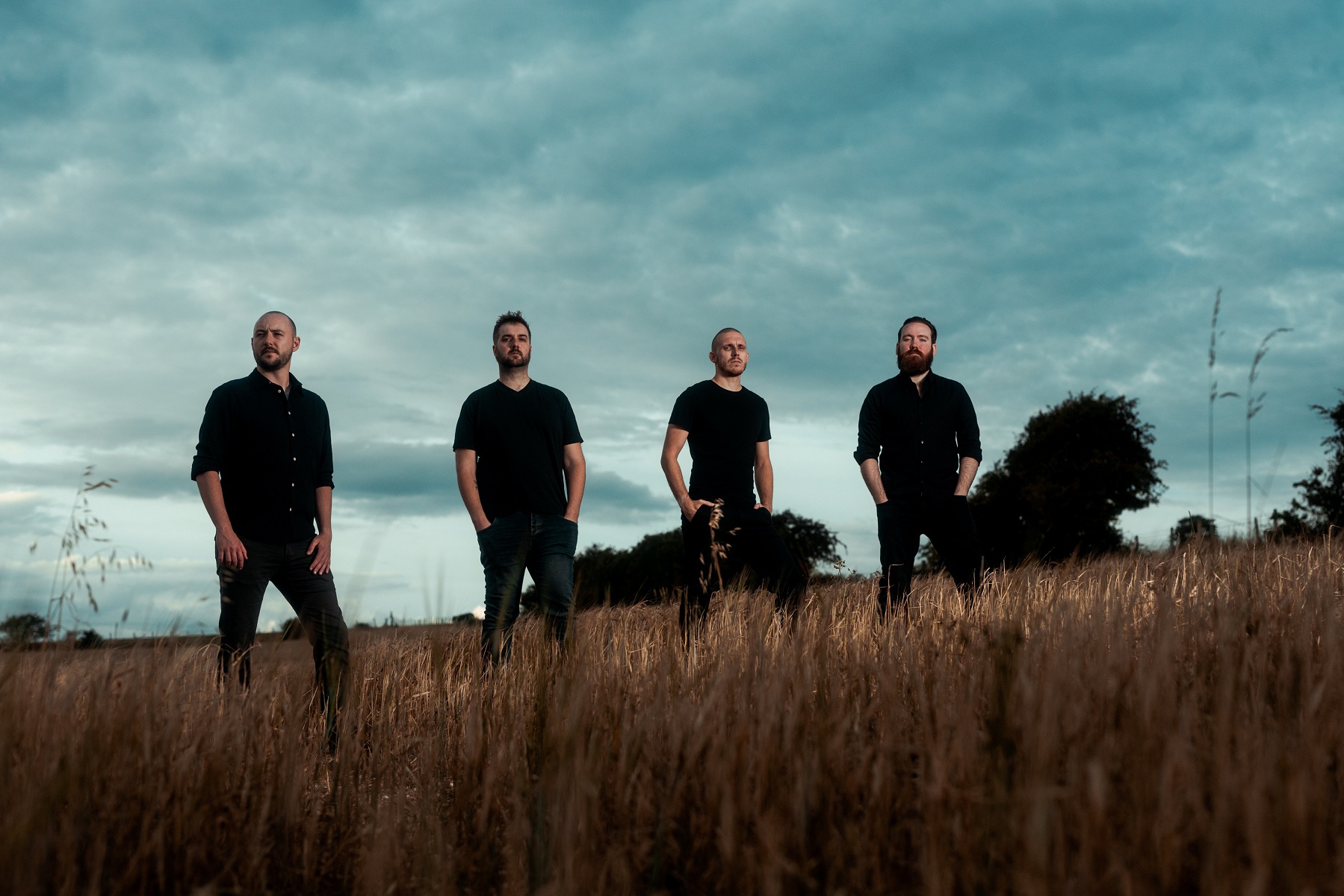 Weeks before the release of Glow, their second full-length, James Pratt, guitarist for Countless Skies, answered some questions.
First of all, thanks a lot for your time. Could you please introduce yourself and the band for someone who never heard about Countless Skies?
James Pratt (guitar/backing vocals): Hi! I'm James, and I play guitar in the band. We're a four-piece, so we have Ross, who also plays guitar and does all the death-vocals, Phil, who plays bass and does all the clean vocals, and Nathan on drums. Our sound is constantly progressing, but right now I'd say we're about 50% Nordic-style melodeath (leaning more towards the Finnish sound), and then a good mixture of many other different styles. You'll hear a lot of Prog Rock influence right now, and some Atmospheric and Post Black among others. I'm looking forward to hearing how other people will describe our new album.
Glow, your second full-length, is about to be released, how do you feel about this?
James: Really excited – we spent longer on this album than anything else we've ever done. With previous releases, we've had to compromise once the recording started. Time, money, scheduling, they all have an impact on how close the album gets to the vision you have going in. With this release, a couple of unforeseen circumstances lead to us having to build a home-studio and do more of the work ourselves. It turned out to be a blessing in disguise, as not having any time restrictions allowed us to perfect everything, and the freedom to try different ideas. Luckily, our label, Willowtip, were really supportive and gave us complete freedom over the length of time we needed to make Glow.
What is the story behind this album? How does the composition process happen? Was it different from New Dawn?
James: A lot of the time, I will grab a riff or two that Ross has written out of a big folder of ideas, and write a song out of them. That's how Moon and Glow (the title track) were written. We also work individually on songs, and most of the time a song isn't finished until we're both together finalising some ideas. Ross and I will split the lyrics pretty much evenly, so I think we've pretty much ended up with two and a half songs each on this one. That being said, without the time restrictions this time round, everyone was able to rework ideas and contribute more. Because of this, Glow sounds even better than I could have imagined before recording started.
Glow's last three tracks are three related songs, how did you get the idea to create a three-part song?
James: Glow was written as one long song, originally split into 5 movements, and then finally released as 3 parts. It's a real dream come true to be releasing a vinyl record where an entire side is just one track. Some of my favourite songs are around the 20-minute mark – Supper's Ready by Genesis, and A Change of Seasons by Dream Theater, for example.
One of your major influences is obviously the australian band Be'lakor, but what inspires you to write music and/or lyrics? It can be music or something else, like movies, books…
James: Absolutely, they're a huge influence on us, and we're constantly inspired by other bands. Personally, when I come to write lyrics, I'm influenced a lot by books I've read. I'm a really slow reader, so I can't say I've read many, but F. Scott Fitzgerald lines have featured almost as direct quotes quite a few times. I can't speak for Ross, but I know he likes to build his songs around key words and ideas. His lyrics for the ending of our song Zephyr are some of our best, in my opinion. I'm not sure if it'll be out when this interview gets out there, but if it is, go check it out. If it isn't out yet, then just wait a bit faster.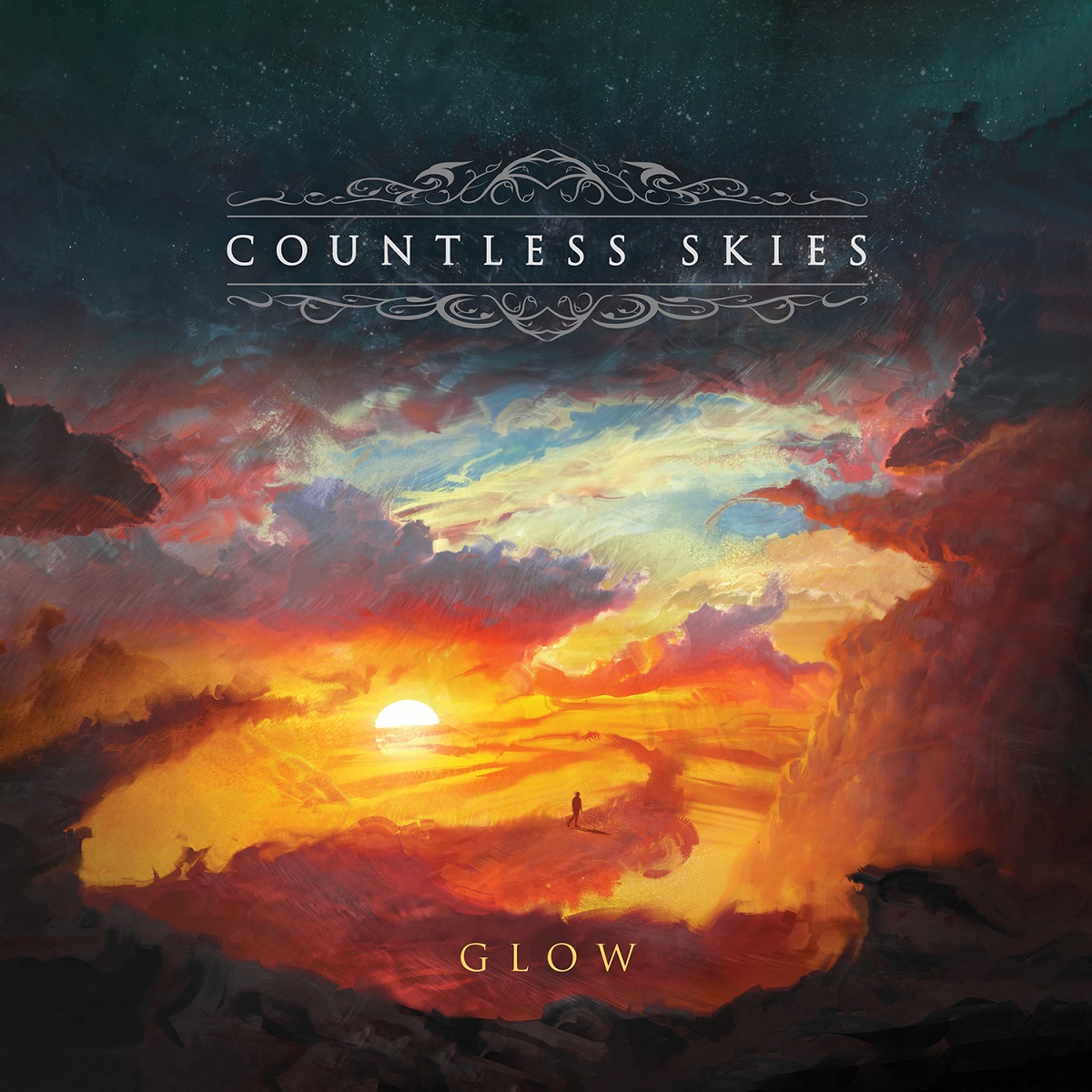 There is a huge contrast between harsh voice and clean vocals in all of your songs. How did you decide which part will be harsh and which one will be clean?
James: It's really whatever feels natural for the part. With Glow, there are a lot more clean vocals than before, in fact every song features Phil's epic warbles. I think it also depends on the melody and complexity of the music. We wouldn't want to overcomplicate a section by having too many overlapping melodies. We're also not using vocals unnecessarily. With the more unusual song structures, we felt that we didn't have to conform to the normal patterns of vocals.
You asked a pianist and a cellist to play on this album, how did you get in touch with them? Why did you choose real instruments instead of samples?
James: We've known Marcello and Arianna for years. Marcello used to play in our previous band, Hatespire. When it came to adding some piano parts this time round, it was exciting to get him back in. We've been on the same line-up as Arianna a few times recently – at Bloodstock 2019 she was with Resin, then at Warhorns with Stonebearer. We just thought that these instruments would really benefit from a live human performance, and both of them absolutely nailed their performances. There's a section in Glow when only those two are playing, and rather than using robotic samples, they've brought so much emotion to the song.
The band's story began in 2009, how did you decide to create a band together? Was it easy to play together at the beginning? Did you feel an evolution now?
James: That's a long story! Ross and I have been friends for years and years – we started jamming when we were around 14 after Ross had started guitar lessons, and asked me if I wanted to play drums. Then in 2009 we were both at uni, and I went to stay with Ross for a lot of the summer break, and that's when we wrote the Hatespire EP. We took the demos to Phil, who we'd known for a few years at that point, and we recorded the songs and Phil sang as 'guest vocals' on one track – Scartraced. It was all really natural, so we started looking for a drummer, who got in touch with us through MySpace (showing our age a bit!) We knew Marcello from school, got him on keys, and played a few shows. Life got in the way at that point, but we got together a few years later, and Countless Skies became a thing.
How did you discover Melodic Death Metal back in time? Which song was your first one from this universe?
James: This was all Ross' fault! He played me Man Made God by In Flames, and because it's an instrumental, I wasn't put off by all the growly vocals. By then it was too late, we were hooked. Then came Dark Tranquillity – those two bands were a huge influence for us at the start, and still are now.
I didn't have the opportunity to see Countless Skies on stage, so what can we expect from one of your live performances? Do you also have a special ritual before getting on stage?
James: I think there's definitely a different energy when we perform to when we're on record. We really enjoy it, and I think that shows. For our biggest show ever, last year on the Sophie Lancaster stage at Bloodstock, we had a lot of help from Paul Mercer of Luton Live/s. He made banners and brought smoke machines, and it made the set really special. Right now we can't play (thanks, COVID), but we're planning something for when it's possible again.
Do you remember the first time you picked up an instrument? Why did you choose this one?
James: I took drum lessons for a couple of months when I was about 10, but I didn't keep at it. When I was around 14 I started again properly, and had lessons for a couple of years. Then I started to pick up my dad's classical guitar and play things like Nirvana and Linkin Park. I remember I was learning to play Supper's Ready by Genesis around my 16th birthday, but I got to a tapping bit and I couldn't hear the guitar at all! So I used all my birthday money and bought an electric guitar bundle.
I know that Covid crisis fucked up a lot of things, but how did you deal with it as a band? And in your personal life?
James: We were really lucky – we wrapped up recording a couple of weeks before the lockdown here in the UK, and pretty much everything after that could be handled online. We still have regular video chats to catch up and plan for the album launch. Personally, it hasn't affected me a great deal day-to-day, I've worked right through, but I haven't been able to see my family as much as I used to, and international travel was completely off the cards for a long time, which meant I couldn't see my partner. Now though, I think most things are possible as long as you're sensible about it.
Do you already have plans for the future you can tell us? About live, video clips, or something else maybe. I also saw that you were supposed to play a tour with Finsterforst, Sojourner and Lucifer's Child, maybe you have touring plans?
James: It's pretty difficult to plan ahead right now, but I know we're all still up for that tour, so fingers crossed we'll be able to reschedule it for next year. MetalDays 2020 was pushed back to 21, so we should be 'co-headlining' the New Metal Festival on that Sunday. We're eager to get back out playing, but if we can't, we'll just have to write more music!
Does Brexit also affect you as a band?
James: It hasn't so far, the transition period until the end of this year means everything stays the same (in a year when we can't tour!) The way negotiations are going right now, I can see it being more difficult or more expensive to tour in Europe next year, but who knows by how much? I can promise that one way or another we'll carry on playing in Europe, as that's where some of our best shows have been.
We talked a lot about music, but what are your other hobbies in life? They can be music-related or absolutely not.
James: It's a bit embarrassing, but I don't really have any hobbies outside of music. I'm always playing around with different musical stuff though. I made an instrumental guitar album a few years ago (State of Creation, if anyone fancies checking it out – shameless plug), but mostly I'm just having fun with stuff. Right now I'm getting into playing with drum machines, like the Roland CR-78 (emulation obviously, unless someone wants to buy me one?), but that's not something that will make its way into Countless Skies. Probably…..
Countless Skies' name comes from a Be'lakor song, but why did you choose this song?
James: That's easy, it was Ross' personal email address at the time. Great song by a great band.
What if I ask you to compare Countless Skies music with a dish? Which one and why?
James: Ok, I'm not the best person to ask about food, my diet is mostly just shakes (Jimmy Joy, if anyone knows) and müsli. Maybe a good attempt would be to compare our songs to Revels chocolates (are they a thing outside the UK?) They're all made of the same stuff: chocolate, but each has its own flavour. Some have toffee on the inside, some raisins, some orange creamy stuff, etc. To complete the metaphor, the song Glow is when you leave a packet in the car on a hot day and they all melt together into one big chocolatey adventure.
What is your best and your worst musician experience ever?
James: The worst experience is easy – a few years ago we played a local gig but we went to the pub first, and we had a few beers right before our set. I was so bad that I swear I played our first song about 10 seconds ahead of everyone else! The best is a tough one, there have been so many great moments, like touring with great guys like Whispered, or winning our local battle of the bands (Metal 2 The Masses). The best for now though, I think it was the moment we walked out onstage at Bloodstock 2019. We'd seen a small crowd gathering while we were setting up, and then we went behind the stage and started our intro. When we walked out, there were so many people! It was one of the most amazing feelings.
Which bands would you love to tour with? I let you create a tour with Countless Skies and three other bands of your choice!
James: Genesis, Pink Floyd, Opeth. I'm not 100%, but I think we'd be opening.
That was the last question for me, a huge thank you for your time, last words for french fans are yours!
James: Thank you, it's been a pleasure. We hope to see you soon, France. Merci!