Ephemerald is ready to move forward.
Created in 2016 in Finland by Joni Snoro (guitar, ex-Frosttide) and Lauri Myllylä (bass, Voidfallen, ex-Frosttide, ex-The Decapitated Midgets, ex-Prayed and Betrayed), the band quickly recruits Juho Suomi (drums, Apocryfal, Prayed and Betrayed) and Vesa Salovaara (vocals, Vorna) then begin to compose. They're finally by Tuomo Sagulin (keyboards), and announce Between the Glimpses of Hope, their first album.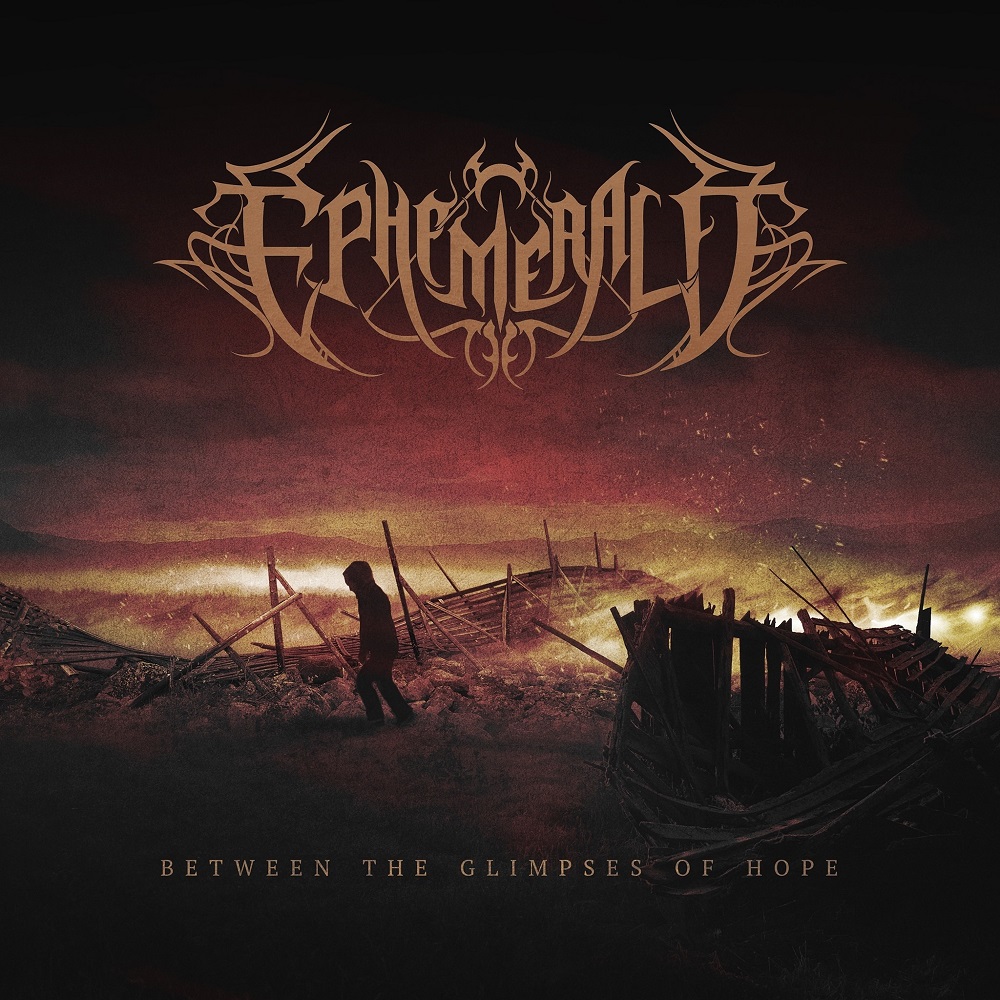 The album begins with the impressive Grand Creation, a song that immediately spreads the band's Melodic/Symphonic influences. Orchestrations meet a heavy and fast-paced rhythmic on which vindictive howlings alight. Epic tones will make a whole crowd headbang, just like I Bear Fire, a dark and melancholic song that the band's fans already know. Halfway between Black and Death Metal, the band exposes us its playground, raiding it with sharp riffs. Servant is next, between massive riffs, enchanting backing vocals and seizing orchestral parts, offering a perfect soundtrack for a well-realised mosh, while Lost begins slower. To this mesmerizing introduction, the band adds a furious rage, dyed with those majestic and appeasing elements, but also soaring riffs.
All There Is offers an acoustic introduction accompanied by choirs, then it's after the middle of the song that saturation comes to complete the musical painting, without removing its magic. Once again, clean vocals enter the mixing on Reborn, a heavy and federative song, which will call more dramatic and absorbing tones before offering piercing leads. The dark No Fall Is Too Deep is next, between an avalanche of strength, those airy influences and the beautiful clean voice, that wonderfully completes the vocalist's howlings. The contrast between softness and violence is exploited again on Till the Sea Swallows Us Whole with its magnificent and impressive but melancholic ambiences before Into the Endless, the last song. Way more weighing, this final composition plays on the epic side of the band's piercing melodies as well as on the vocalist's abilities to this magnificent finnish coldness to enjoy one last time.
Ephemerald's first album is incredible. Deeply anchored amongst Death, Black and Symphonic Metal, Between the Glimpses of Hope and its finnish roots is an album that picks the best of every style and mixes it until the best happens.
95/100