Einherjer is back to conquer the world.
Created in 1993 by Ulvar (drums/keyboards, Battered, ex-Beelzebub) and Grimar (bass/chant, formerly guitar, Battered, ex-Beelzebub), the band suffered from some line-up changes, and even a hiatus from 2004 to 2008. Nowadays, Ole Sønstabø (Fear Theories) and Tom Enge took guitar duties for North Star, the band's eight album.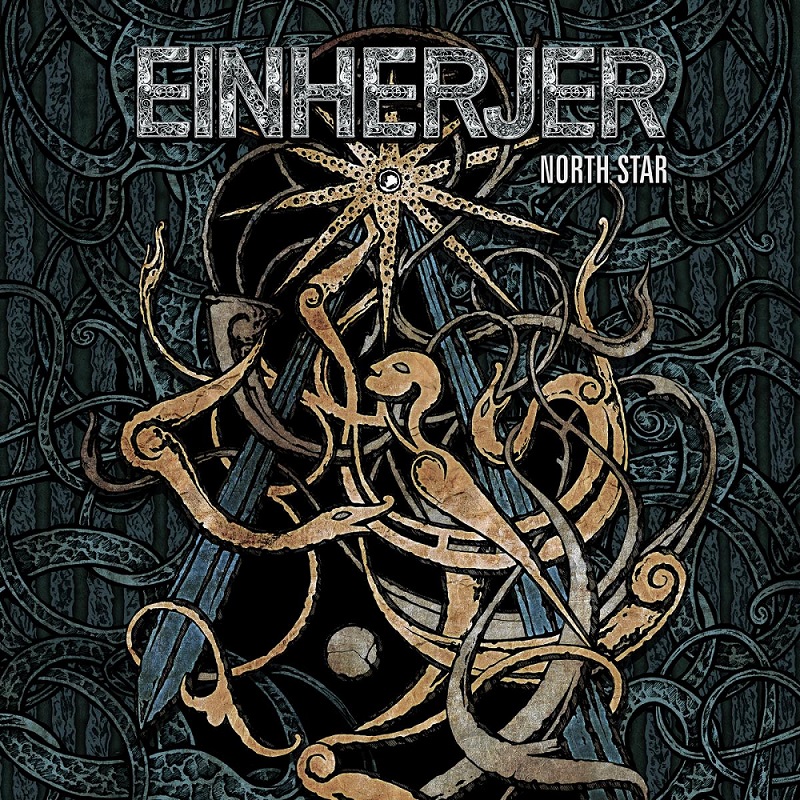 The album begins with The Blood and the Iron, a very effective song that offers sharp harmonics, raw vocals and a quite motivating rhythmic. Leads bring us those epic sonorities, while backing vocals strengthen this cohesive aspect between the band members, while Stars add those quite soaring sonorities in those solid riffs. Keyboard and guitars relay themselves while the rhythmic section holds the basis of the song, strengthened by those raucous vocals. Again, the song is catchy, just like West Coast Groove, a song with marked Heavy Metal influences. Riffs are nearly joyful, counting on bass to add those nordic dancing melodies, then the long Ascension brings us alongside musicians in those brutal and epic conquests. The band develops its universe between ice-cold and spiking harmonics, a seizing basis and mastered leads, which easily throws us in the heart of the battle.
The short Higher Fire gives us once again what to nod in rhythm with those quite simple but with effective jerks and piercing melodic leads. Vocals are still accompanied by some choirs, then sharp harmonics are back for Echoes of Blood. The song is quickly shrouded in this dark and mystical aura, that comes to life in both airy leads, but also this quite massive rhythmic, while the vocalist speaks. Listen to the Graves stays in those mysterious but still hooking tones. The song has everything required to start a crowd inside of a packed venue or in one of the many festivals the band will be invited to play, while offering us soaring leads. Chasing the Serpent, the last song, is more warlike and rawer than the previous songs, offering us a perfect soundtrack for this hunt with epic and dark Heavy Metal influences.
Considered as one of the Viking Metal pioneers, Einherjer doesn't change its recipe! North Star is sometimes epic, sometimes dark, sometimes more vivid and sharp, but the band's Old School sound is still as catchy!
85/100