Municipal Waste is back with new riffs!
Since 2001 in the United States, the band led by Tony Foresta (vocals, Iron Reagan), Ryan Waste (guitar, Bat), Land Phil (bass/vocals, Cannabis Corpse, Iron Reagan), Dave Witte (drums, ex-Human Remains, ex-Discordance Axis…) and more recently Nick Poulos (guitar, Bat, ex-Cannabis Corpse) plays Thrash Metal. In 2022, they announce the release of Electrified Brain, their seventh album, on Nuclear Blast.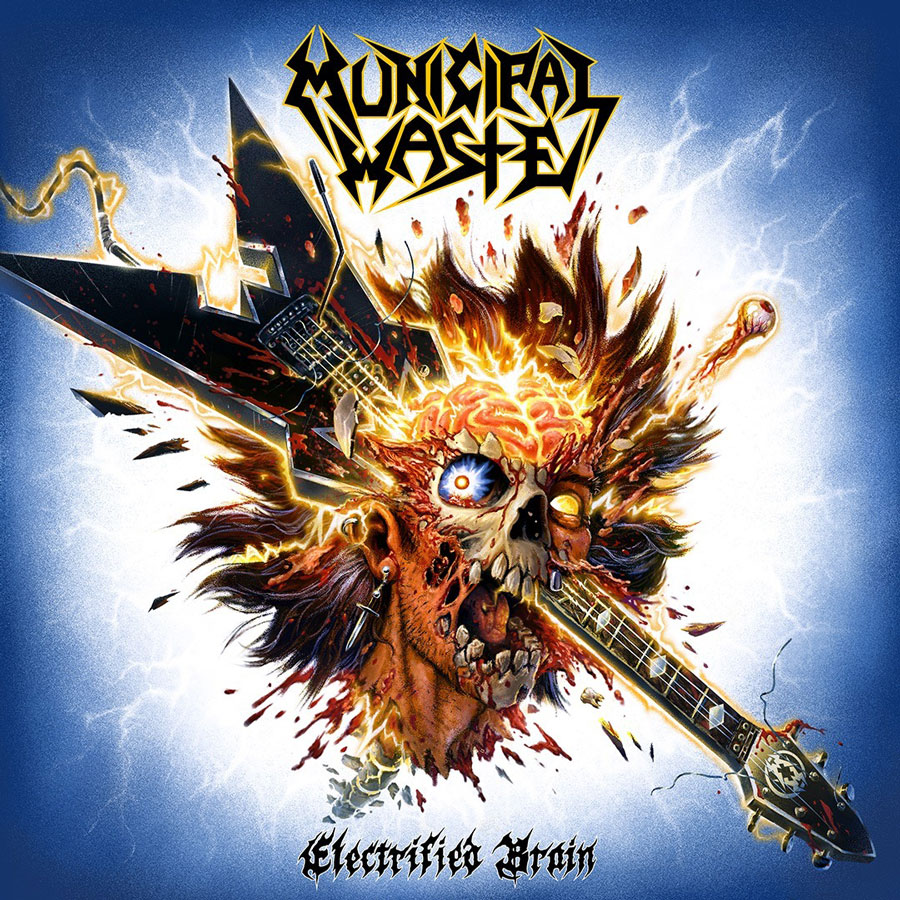 Electrified Brain, the eponymous track, opens this album with a sample which perfectly embodies the name of the song before the furious Thrash comes over. The sound remains anchored in energetic and groovy sounds, just like Demoralizer and its heady melodies. Rage comes quickly back to the forefront with the Crossover influences and leads, then Last Crawl recovers the most violent elements of the previous track which will be the most effective live. The band continues with Grave Dive, which continues in the raw efficiency embellished with those raw choruses, but also with The Bite, a short song of which only goal is to make the pits shake with Old School touches. High Speed Steel mixes this simple but effective basis with slightly more complex parts and a soft acceleration, then Thermonuclear Protection offers us a frantic tempo which only slows down to make us mosh before Blood Vessel – Boat Jail unveils us a short moment of respite. The rhythmic comes back again to welcome aggressive leads and a virulent blast, while Crank the Heat takes us back to the 90's Crossover, including this aggressive spurt. Restless and Wicked offers an interesting role to the rhythmic, letting the harmonics rain before Ten Cent Beer Night stays on this fast and powerful basis, but the surprise comes from Barreled Rage and its very soft introductive solo. The harmonics keep those melodic touches, while the rhythmic elements focuses on the catchy groove, as does Putting On Errors and its surprisingly aggressive Grind roots. The song is also the shortest of the album, and it will give way to Paranormal Janitor, the last track, which does not move away from the band's basis, combining pure efficiency and a devastating energy.
Municipal Waste will always surprise us with its constancy and its inexhaustible energy. More than twenty years, seven albums and a dozen other releases, but Electrified Brain still smells new, aggressive and raging.
85/100