Darren "Daz" Brookes, founder guitar player for the legendary Death Metal band Benediction took time to answer my questions before the release of Scriptures, their new album.
Hello and first of all, thanks a lot for your time! Would you mind introducing yourself and the band please?
Darren "Daz" Brookes: Yes I'm Daz, guitar player for Benediction since day 1
Benediction's eight album, Scriptures, is about to be released, how do you feel with this release? How does the composition process happen?
Daz:I feel great, really happy with it. The tunes, the artwork, the line up, the production, everything. We have amassed quite a lot of material over the last 12 years so when me and Rewy (Peter Rew, guitar player, ed) decided we'd make a new record we had a lot of material to choose from. Some of the material is brand new, other stuff is 10 years old but it's all typically Benediction so no problem there.
There are twelve years between Scriptures and Killing Music, the previous full-length. Except for some line-up changes, do you feel that the band evolved between those two records?
Daz: I don't think we necessarily evolve but we do get better at what we do. Benediction is a special band. We are not influenced by other artists now. We are influenced by our own history. We don't wanna be the next new thing, we wanna write Benediction songs, that are obvious to people. We don't wanna be the fastest but we do wanna be the best at what we do. 
Last year was Benediction's thirtieth anniversary, and it was marked by the comeback of Dave Ingram. How was this event decided?
Daz: When Dave Hunt told us he couldn't commit to the time needed to do this album and the inevitable endless touring to promote it (fingers crossed on that one), I initially called Dave Ingram with the intention of him doing a few gigs that Dave Hunt couldn't do, but it soon became obvious that Dave (Ingram) wanted more. 
Despite the years and changes in the music industry, you are still on Nuclear Blast's roster. Do you remember how this collaboration between the label and Benediction happened? Is it different to collaborate with them now?
Daz: When we signed with Nuclear Blast, Markus and his partner Micheal were still operating from home. They were more interested in the mail order but the label soon grew with us, Dismember and others. It was very personal back then. There are so many faces at Nuclear Blast Records that we have never actually met and that's a shame coz that's how we like to work, face to face. But times change. Hopefully we'll  get to put faces to the names soon. It's the best label for us. They always believed in us and vice versa. It's a special bond and one I hope we can keep now that Markus has gone.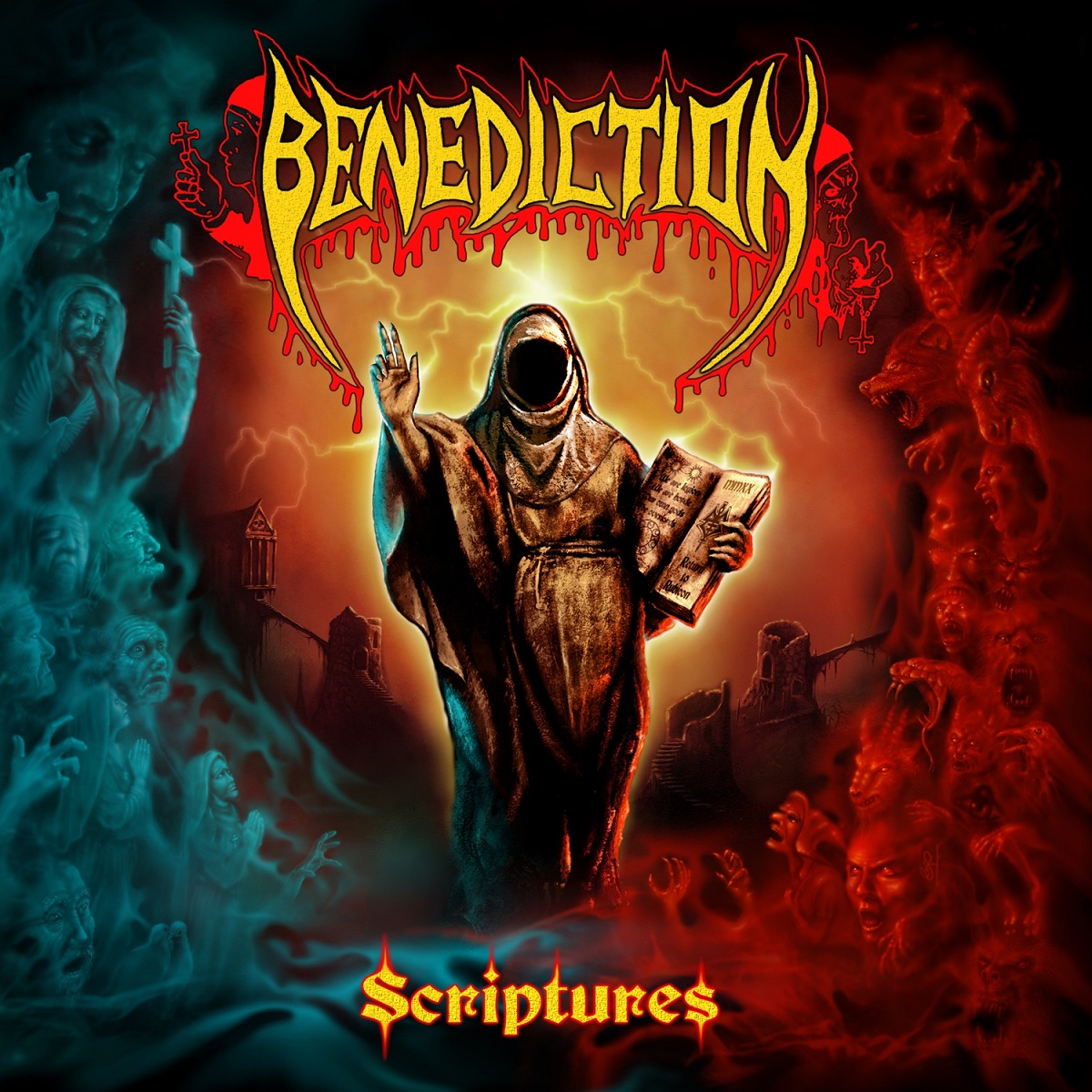 The band also kept this Old School Death Metal approach, what are your main inspirations? It can be musical stuff or not.
Daz: As I said earlier it's us, we inspire ourselves, each other. I think Death Metal over the years has become about how fast you can play or how technical you can be, but that was never it for us. We want feeling, hooks, grooves. We're not bothered about dancing fingers all over the fretboard and showing off how fast we can play. We write songs that get you out of your seat, get you fist pumping, banging your head, moshing. That's more important to us.
How did you discover Death Metal back in time? How does your inspiration evolve with time?
Daz: It was all about tape trading demos back in the day. We would all swap demos all over the world. Then a few bands got picked up and then it just went nuts. Unfortunately because labels didn't wanna miss the next big death metal band, they all started signing everyone up and by the mid 90's there was a lot of average and shit bands getting released and the industry suffered. People thought that this was death metal and a lot of it was crap. Those bands (most of them) didn't last and the cream has hopefully risen to the top now. But all the way through the dark times Benediction kept going. We didn't jump ship. Hopefully we will reap the rewards for being true to what we believe with this release. It's getting great reviews. 
Did you ever think that Benediction could last this long at the beginning?
Daz: Of course not. We believed what we were doing was good, and important but because it was so different to the mainstream, we didn't know if it would be accepted. Fortunately we never went out to be rockstars, or make a fortune out of this. It was, and still is because it's what we like, what we are.

I know that Covid-19 fucked up everything, but maybe you have plans for the future you can tell us? The band was supposed to play some shows including festivals like Netherlands Deathfest, did you manage to get everything rescheduled?
Daz: Pretty much. Most of this years gigs have been copied and pasted til next year. Can't wait man!
About live shows, how do you feel before going up on stage? Do you have a special warm-up ritual?
Daz: It's what we do, it's what Benediction is, live. We love playing live. I personally love the bit before we go on. Adrenaline, expectation, love it. We have no rituals but we do always try to talk with as many fans as we can. We love to get involved with them, to talk, drunk a beer. To be part of it.
We talked a lot about music, but what are your other hobbies in life? They can be music-related or absolutely not.
Daz: I love football, crazy Liverpool fan since I was 6. I play golf and I like to go scuba diving with my girlfriend.
Do you remember the first time you picked up an instrument? When and how was it?
Daz: I remember as a teenager, going to (Judas) Priest shows, Motörhead, Saxon etc and wanting to be on stage, doing the same as them. I asked my Mom for a guitar when I was about 13 or 14. She frowned but bless her She said if that's what you wanna do, go for it. I would make some awful noise in my bedroom with my guitar and amp but She never complained. I loved it. I thought myself to play, got guitar books of my favourite bands and the rest is history I guess. And by the way, my Mom is still encouraging me.
What was the very first Metal song you ever heard? Which one was the song that made you think "I want to create a band and play on stage"?
Daz: I guess it would have been a (Black) Sabbath record. The first album I bought was Heaven and Hell. The band I wanted to play like was (Judas) Priest. I loved that two guitar thing.
What if I ask you to compare Benediction's music with a dish? Which one and why?
Daz: Ooh, great question! Something simple, easy to get along with, something I'm gonna want again, and ultimately rewarding, leaves you content. Maybe an Indian curry. Tasty, sometimes explosive, fun from the starter, through TIL the end. And good with a beer.
What is your best and your worst musician experience ever?
Daz: The best are numerous but I guess sharing the stage with my hero's are the best experiences. Playing with and getting to know Priest, Saxon. Getting drunk with Lemmy after a show in Milan. Being part of the original death metal scene and having so many friends in the other death metal bands. Touring with Bolt Thrower, Death and countless others. Meeting the fans, so loyal and humbling. Gigs in so many cool countries. I'm very lucky. There is nothing worse though than when your equipment fails. It's ultimately embarrassing but worst of all you feel you are letting people down, the fans, the promoter and your 4 band mates. Again there's been a few but not that many.
Which bands would you love to tour with? I let you create a tour with Benediction and three other bands!
Daz:  In my dreams I would love to tour with:
– Judas Priest, Painkiller era, full production,
– Slayer, recent production (but with Jeff Hanneman)
– Terrorizer with David (Vincent) and Jesse (Pintado)
That was the last question for me, a huge thank you for your time, last words for french fans are yours!
Daz: I'd like to firstly thank you. And also all the loyal French Benediction faithful. Without your support us, and others would not survive. We really appreciate you sticking with us. Can't wait to get on stage and play for you guys. Thank you from us all in Benediction.