Thirty years after their first album, Benediction comes back to mark Death Metal with Scriptures.
Founded in 1989 in England, the band quickly signs with Nuclear Blast, a label that still supports them for this eighth album. Whether Darren Brookes and Peter Rew (guitars) are still here since the band's firsts hours, we find Dan Bate (bass, Omicida, ex-Absolva, ex-Monument), Giovanni Durst (drums, Hiss of Atrocities, Omicida, Monument) but also Dave Ingram (vocals, Benediction's singer from 1990 to 1998, Down Among the Dead Men, ex-Bolt Thrower, ex-Hail of Bullets) who is back with the band.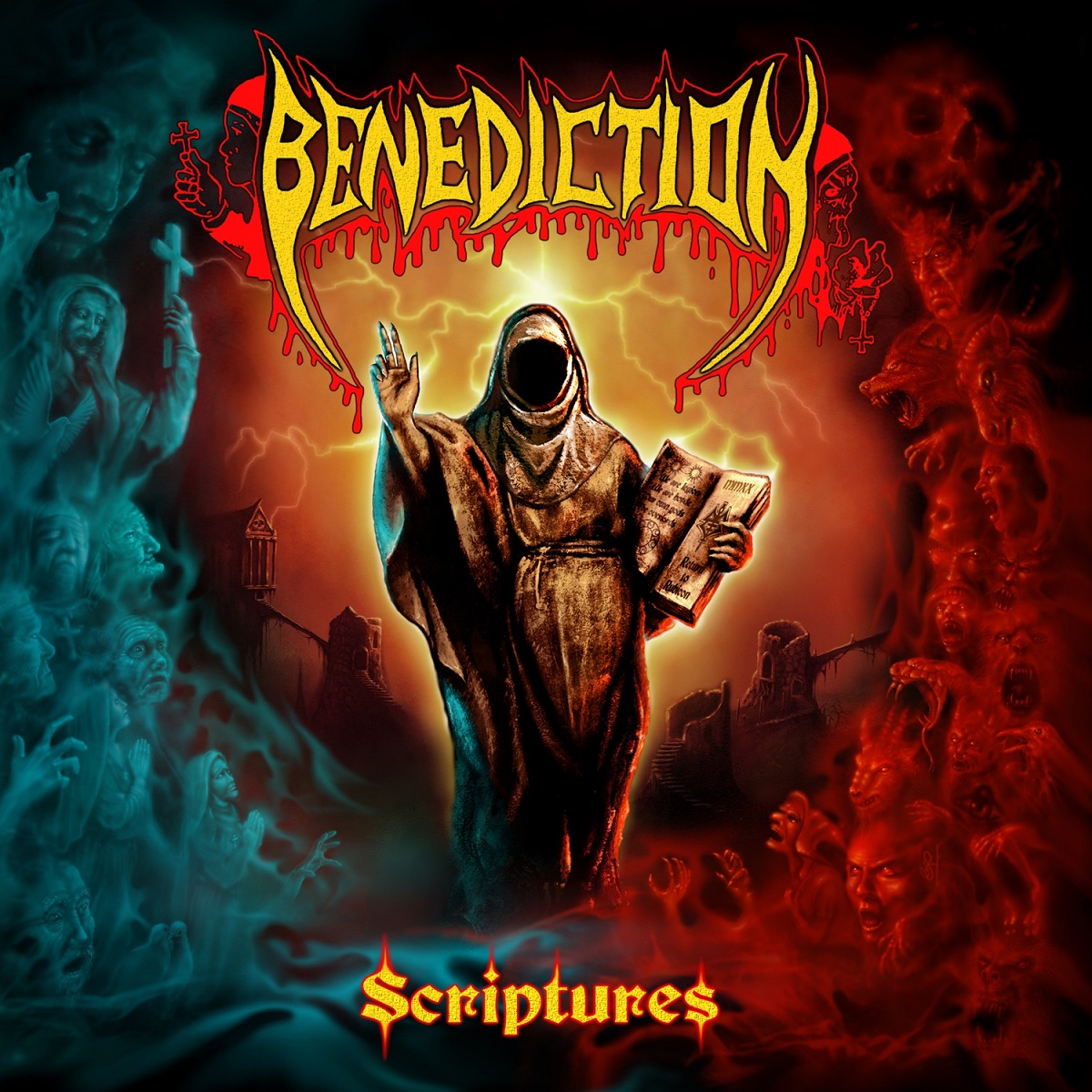 Twelve years separate Scriptures from its predecessor, but the englishs doesn't lose their time, and Iterations begins at full speed after a short purulent-sounding introduction. Blast, sharp riffs, bloody-tasting harmonics and raging screams, the recipe is still the same and it is as effective as before. Same feeling for Scriptures in Scarlet, an energetic song that picks into Old School catchy roots as well as in a heavy rhythmic that will make anybody headbang for sure. The Crooked Man, the next composition, is darker but as heavy as the previous one, and stays in those sounds that made the band's strength and fame, while Stormcrow plays on this violent and fast aspect, in addition to a frighteningly effective double kick steamroller that sometimes morphs into fiery blast beat. The band slightly slows down for Progenitors of a New Paradigm, an impressive track with heady harmonics and snoring bass, that knows how to skillfully place some speedings, but we go back on pure and hectic violence for Rabid Carnality, a short but sharp song.
In Our Hands, The Scars links again with Old School patterns that we love so much, as well as sonorities that drive us to the past. Bass plays a leading role in this composition, as on Tear Off These Wings, a very groovy song that immediately reminds me of the band's early obvious influences. We go for the short Embrace The Kill with a piercing sound that gathers spiteful howlings. The musicians' relentlessness is palpable in those bloody riffs that smell hatred until lead parts. We keep this raw aspect of the band's music with Neverwhen, a warlike song with melodic but cold leads. A small dose of technicity slips into the rhythmic, while The Blight at the End focuses on effectiveness. Once again, the band cooked a catchy and frenetic groovy rhythmic that will find its audience for sure. Last song, We Are Legion offers an epic sound and cleverly placed melodies inside of impressive riffs. This was all we needed for a last headbanging moment on this war march.
Benediction is still in good shape. The twelve songs from Scriptures are all very effective and permit Old School Death Metal to come back in the light, waiting to smash us on stage!
90/100