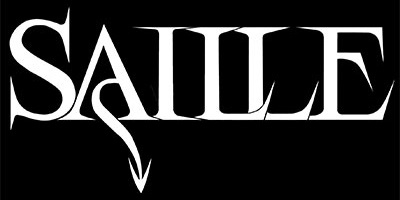 Saille is back to introduce V, its fifth album.
Created in 2009 in Belgium by Reinier Schenk (guitar, Fleshmould), the band moves and regularly changes its line-up while releasing albums. Accompanied by Kristof Van Iseghem (bass), Kasky Svart (guitar, The Last Oblation, ex-Bizarre), Jesse Peetoom (vocals, Aran Angmar, DunkelNacht, Yaotzin) and Tony Van den Eynde (drums, Mordkaul, ex-Leng Tch'e), the band offers a new full-length.
Recently signed with Black Lion Records, the band offers a Black Metal with Symphonic accents that we discover with the oppressive Suffering Sanctuary. Unhealthy riffs, piercing howlings supported by screaming backing vocals and a solid rhythmic gather before a dark break, then the band's riffs strike again, catching us in their universe. Fetid Flesh comes next, and the band exposes us a both vicious and morbid painting on which musicians weave raw riffs to accompany a dark and vicious ambience. Charnel Chamber offers haunting and seductive melodies, on which the band creates a suffocating and exciting ambiance. Some choirs join the rhythmic, then some languor settles in until the final part, opening the gates of Loathsome Legacy, a heavy and quite fast song. It shrouds us into an anguishing ambience created by keyboards, while playing riffs, allowing the vocalist total freedom.
Empty Expanse offers a contrast between aggressive howlings and very Old School dissonant rhythmic, while feeding an unhealthy, chaotic and unholy ambience, followed by heady harmonics on Baleful Beauty. The song is sharp, the tempo is fast, but guitars develop a veil of extreme and foggy dissonance, that let the singer the possibility to whisper or scream, while Terror Tapestry imposes a suffocating blackness. The band throws by force into a sinister and raging ambience, completed by a raw rhythmic that will finally accelerate to create a howling chaos, supported by visceral rage. The band offers a last composition as bonus track, the groovy Mirror Motions, already present on the previous EP. Those who follow the band since a while will enjoy to headbang again on this majestic song, while those who discover them will be caught by this malicious and raging violence.
Saille's reputation doesn't cease to grow, and V will be part of it. The album immediately catches us into its majestic, unhealthy, visceral and dark universe to only release us when it ends.
85/100