Solemn Echoes is unveiled with a first album.
Recently created between United States and Brazil by John McGovern (vocals, Chalice of Suffering, Laceratory) and Fabio de Paula (guitar, HellLight), the band recruits Alexandre Vida (guitar, HellLight), Aaron Lanik (drums, Chalice of Suffering) and Jeff Johnson (keyboards, Promidal) to put the final touch to Into the Depths of Sorrow.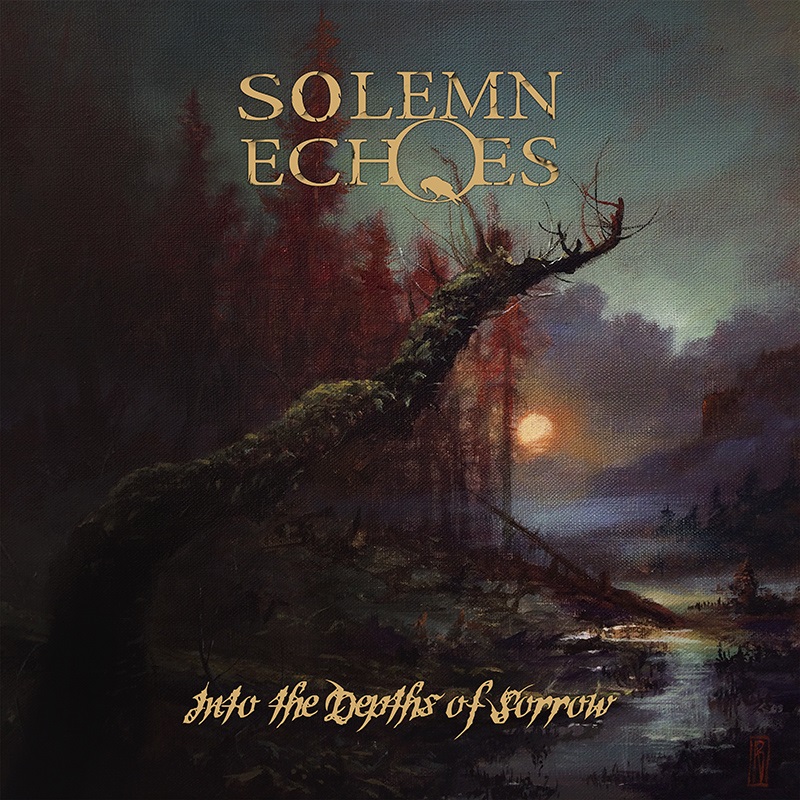 It's with The Comfort of the Abyss, an instrumental introduction, that the band opens us its gates. We immediately feel melancholy and grandeur, but also some seizing kind of oppression, that will be confirmed by After Ive Taken my Last Breath, the first song. Raw vocals melt to as weighing as deep influences, builded on haunting sonorities and heady keyboards, but also a clean voice for an airy break. The Cold Wind Blows comes after, offering an ice-cold but seizing ambience for the apparition of Tamar Singer (Autumn Tears, Necromishka) on vocals, completing the vocalist's heavily meaningful lyrics on a painful instrumental, of which lament seems endless, while we find some piercing leads on Abandoned, a rawer and more frightening song. Plaintive howlings create a contrast with this so pure clean sound, but blackness finally wins.
A Worthless Disgrace continues this descent into hell. Tones are darker, but also more heady, mainly on leads and the contrast with some words that come to us at the end. Solitude for the Dying stunts us again, between this suffocating slowness, keyboards on the background and this clean voice that suddenly morphs to scream. The sound is shared between clean and saturation, offering a stronger contrast between the two parts of the band's personality. Leads fly around this rhythmic, then Into the Depths of Sorrow, the eponymous song, begins. Once again, duality strikes, creating a complementary but so close atmosphere between a soft melancholy and a dark oppression, that will only strengthen before The Final Steps to Eternity, a soft outro. Some voices, some steps, some notes, then the silence.
Solemn Echoes' universe is intense. The word is weak, but Into the Depths of Sorrow builds a landscape of desolation, suffering and rage which is impossible to ignore to place melancholic and heady riffs that resounds in us like a mournful death knell.
95/100