Moonshade is on fire for its second album.
Formed in 2010 in Portugal, the band consisting of Ricardo (vocals, Scars of the Mind, ex-Deep Cut), Pedro Quelhas (guitar, ex-Deep Cut), Nuno Barbosa (bass/keyboards), Fernando Maia (drums, Phase Transition) and Luís Dias (guitar, Phase Transition) has announced the independent release of As We Set The Skies Ablaze in 2022.
The band called on Diogo Mota (Gaerea, ex-Downfall of Mankind) for the drums, as well as Sandra Oliveira (Blame Zeus, Perennial Dawn) and Sofia Beco (Phase Transition) for the female vocals.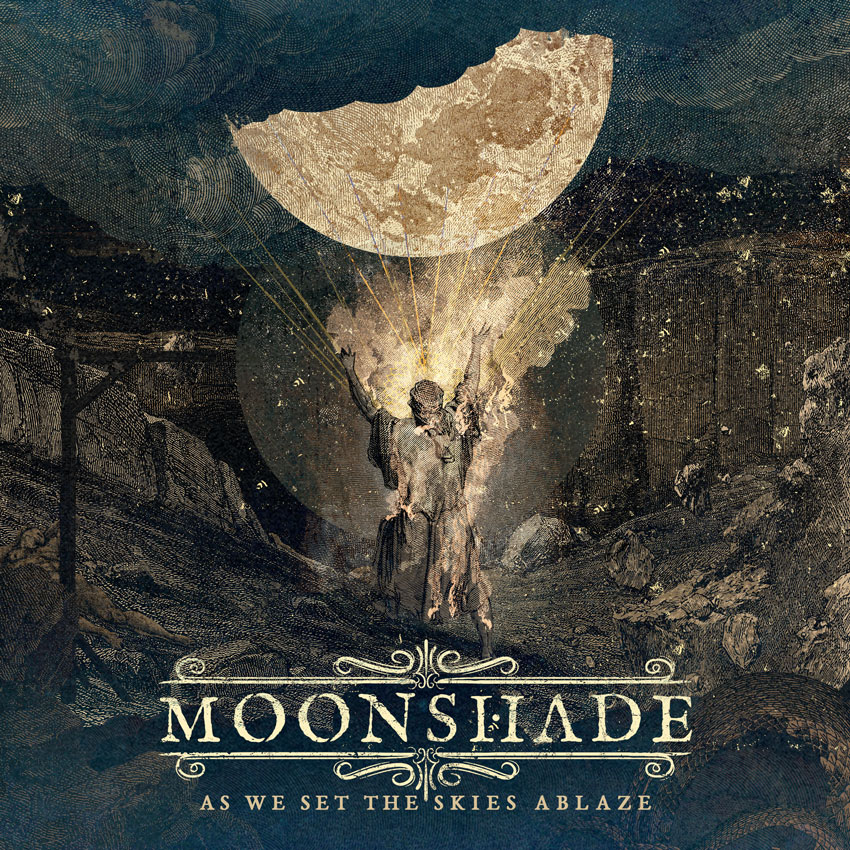 The album ironically begins with Epitaph, an aggressive track which will surprise by its vocal diversity, but also its very Old School roots and its efficient patterns which will leave their place to Valley Of Dying Stars and its hypnotic harmonics. Rage quickly comes over with devastating rhythmic and impressive blasts, but the track also reveals soothing distant choirs and some cold clean vocals, unveiling a softer aspect before Blood Of The Titans crushes us with its massive screams. The track remains quite contrasted, offering both parts of this universe the ability to express themselves by revealing haunting elements, just like on the heady The Shadows Of My Dissent and its complex leads. The rhythmic remains quite catchy on this melancholic track, then Artemis offers enigmatic female clean vocals while remaining anchored in these catchy and effective patterns. The band picks into a more warlike range for The Antagonist, an impressive and yet rather accessible composition which lets melodies spawn on a solid but quite long basos, which allows the band some experimentations. We will for example notice this heavy and aggressive acceleration, but also softer and heady parts before the final chorus, which will throw us on As We Set The Skies Ablaze and its epic orchestrations, mixing with the tracks's slowness. We will also have an Old School blast, piercing leads and a groovy rhythmic helped by roaring bass, then the quietness drives us to Everlasting Horizons and its soaring riffs. Screams join whispers in this rage carried by cold and sharp melodies, then the track will finally abandon us on A Treatise Of Human Nature, the last track, which offers an acoustic introduction before allowing voices as well as the haunting instrumental show us the way to this intense final.
Moonshade does more than mastering Melodic Death, the band makes it their own. On an aggressive and catchy Old School basis, As We Set The Skies Ablaze knows how to be cold or melancholic, and sometimes offers a hypnotic duality.
85/100