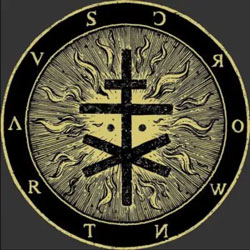 Svart Crown unveils its latest offering.
Created in 2004 in the South of France by JB Le Bail (vocals/guitar/bass, Igorrr), the band released a first demo in 2006, followed by five albums on Rupture Music, Listenable Records then Century Media Records. In 2022, the creator, accompanied by Clément Flandrois (guitar/vocals, Hyrgal, Oorthian, ex-Pillars) and Rémi Serafino (drums, Crusher, Dissident, Hyrgal) announces Les Terres Brûlées, his new EP on Les Acteurs de l'Ombre Productions, and then the end after a last concert at Hellfest.
The EP starts with Geoulah, which immediately offers all the riffs' unhealthy darkness coupled with the expressive and minimalist screams the band marvelously handles to develop a dark and heavy atmosphere. The dissonant leads easily mesmerize us, leaving rougher parts tp the solid rhythmic before the sound fades to drive us to Les Terres Brûlées, the eponymous track which melts heady melodies with this effective basis. All the influences are blended together to give us a catchy and mystical flood in which musicians add sharp harmonics and a mysterious break with clean sound which lets heavy choruses guide us back into the surge. Digitalis Purpurea follows with an airy sound strengthened by those solid riffs and crazier influences which allow melodies to express themselves, but the track remains very coherent. We will also notice this majestic final which lets the short Cavalier Noir, a cover in French of Converge's song Dark Horse, mix their dark touch to the raw energy of the Americans. The language barrier may surprise, but the song perfectly suits them, and it opens the way to An Open Heart, the last track, which sounds like a requiem to anyone who takes the time to read the lyrics. Quietness, intensity, clean or saturated sound, this only track sums up the band's will and commitment to their art, while letting violence come out when they need it.
Svart Crown is dead, long live Svart Crown. For almost twenty years, the band has been delivering high quality Black/Death in bloody, devastating and incisive riffs, making the band one of the French extreme scene's spearheads. Les Terres Brûlées is a compendium of this rage, but also a human testament.
95/100