Less than a year after their last album, Massacre already releases a new EP.
Kam Lee (vocals, Grave Wax, Nattravnen, ex-Bone Gnawer, ex-Death…), Mike Borders (bass), Brynjar Helgetun (drums, Putrevore, Just Before Dawn, ex-Megascavenger…), Scott Fairfax (guitar, Memoriam), Jonny Pettersson (guitar, Heads for the Dead, Wombbath, Nattravnen. ..) and Rogga Johansson (guitar, Eye Of Purgatory, Megascavenger, Paganizer…) didn't waste their time, and unveil the four tracks of Mythos.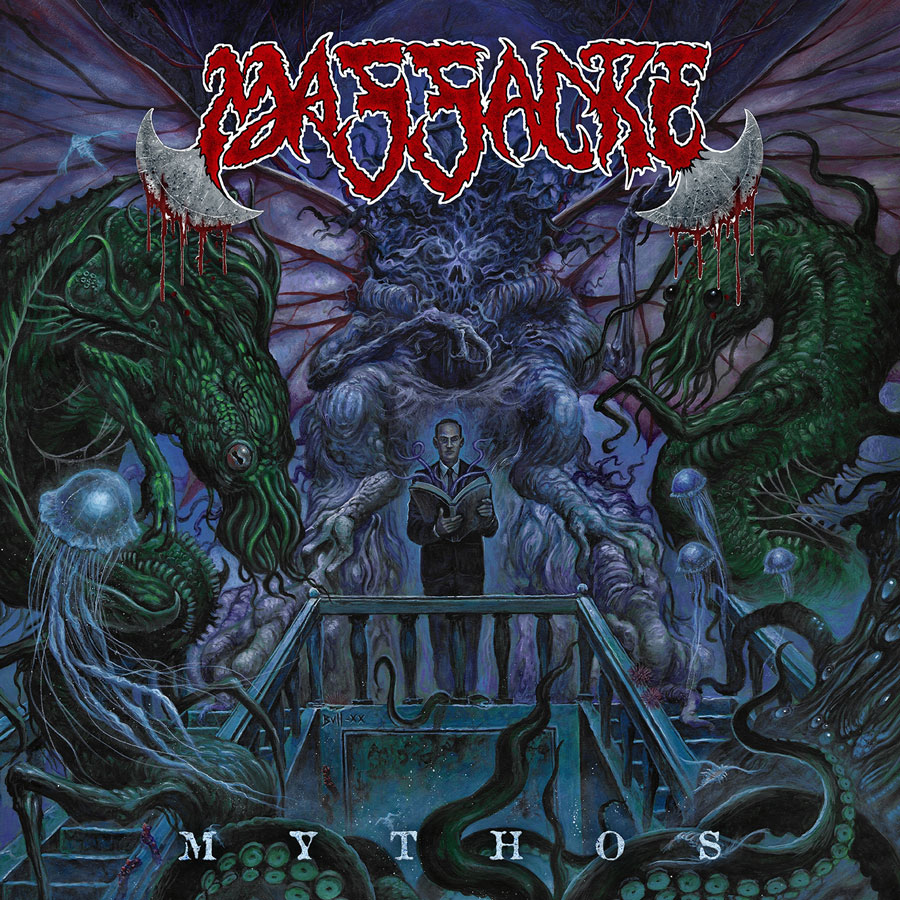 Behind The Serpent's Curse comes first on this EP accompanied by Anders Odden (Cadaver, Order, Satyricon, ex-Apoptygma Berzerk…) for a dark touch in powerful and efficient Death Metal riffs. We will also find disturbing bass coupled with regular strikes, then the unholy rage resurfaces while giving way to aggressive leads, before the short The Dunwitch Horror comes to surround us with its mysterious aura, letting the rhythmic rage. The thick Old School influences are effective, allowing the vocalist to offer us horrific choruses in addition to his screams to create a contrast with the lively parts topped with harmonics. The Mythos That Lovecraft Built follows with a blending of aggression and oppression mainly inspired by the Swedish and American scenes, while keeping the screaming leads, just like on The Thing on the Doorstep and its jerky harmonics. The track closes the EP in a fast-paced violence which still allows the band to develop its disturbing darkness in a slow way.
Massacre seems to have found a cruising speed. Although too short, Mythos shows us that the musicians know what they are doing, allowing us to hope for them to go to stage to confirm this feeling.
75/100