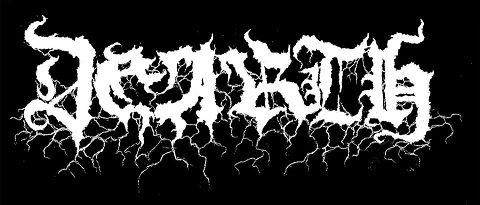 Question simple, qu'obtient-on en mélangeant riffs sombres et violence ? Dearth.
Créé en Californie en 2017, le groupe aujourd'hui composé de Connor Allen (chant/guitare/batterie, Abstracter, ex-Gloriam Draconis, ex-Torture Chamber), Zack Gilliam (chant/basse, Swamp Witch, Xenotaph, ex-Torture Chamber) et Justin Divver (batterie, Psychic Hit, ex-Demon Hammer) le groupe nous lâche To Crown All Befoulment, son premier album.
Mêlant habilement un Death Metal martial et un Black Metal malsain sur une base Old School, les américains développent leur univers brutal et effrayant en six titres. Côté chant, le growl caverneux s'intègre à la perfection à ce rouleau compresseur de blast, tout en laissant parfois place à un scream perçant ou des harmoniques sombres. Et le mélange avance avec efficacité, lacérant tout sur son passage. Le contraste des deux voix forge l'ambiance, comme sur Death Sown in Polluted Soil alors que c'est surtout la rythmique féroce qui nous accroche avant de nous violenter, à l'image d'Autoasphyxia. L'addition des éléments Black Metal sur les riffs imposants de The Reverence of Swine permet également au groupe de nous hypnotiser tout en nous écrasant, et si les morceaux ont tous cette touche grasse, celui-ci est particulièrement lourd. Dernier morceau, Blight combine des guitares au son tranchant avec une basse ronflante caractéristique d'un Death Metal épais et un blast inarrêtable pour clore l'album.
Avec leur Black/Death écrasant, Dearth entre sauvagement dans la scène américaine. La hargne de To Crown All Befoulment est palpable, et les musiciens motivés, proposant des riffs de qualité et un son Old School qui leur va à ravir.
80/100