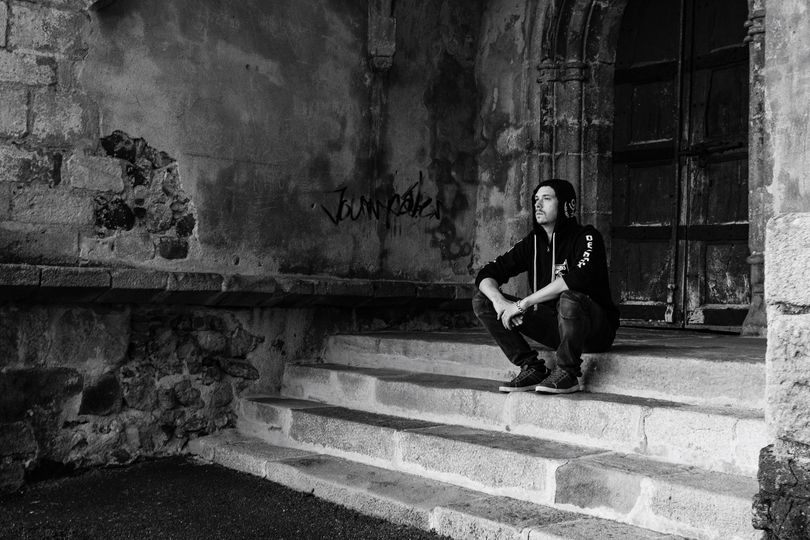 Spellbound, mastermind of Jours Pâles, allowed me to ask him some questions for the release of Éclosion, his band's first album.
Hello and first of all, thank you very much for the time you take to answer my questions. How would you describe Jours Pâles to someone who never heard about the band?
Spellbound (vocals/composition): Hi and thanks to you for your more than relevant and interesting questions. I think that Jours Pâles is somehow the soundtrack of my life: it charts with music a part of my real life, whether it is by picturing instants and parts of recent living, or more anchored and deeper flaws. This project allows me to put in action and shut out the tribulations of existence, but also the positive resurgences or the urges of hope. Musically, it's something between melancholy, more intense or galloping moments, a music driven on melodic guitars, sometimes fast and sometimes slow, screaming vocals on a depressive Rock basis, embellished by very diversified influences, from Electro (only a few) to Extreme Metal.
Jours Pâles was also the name of Asphodèle's first album, where does this name come from? What is its link with the music?
Spellbound: Jours Pâles represents all those hollow, languid moments of life, the consequences of abuse, those muddy mindscapes… But hopefully, days are sometimes changing tones and colors, hope reborns and we are all needy about it… Jours Pâles is somehow this dichotomy. A heartbreak between the beautiful and the ugly, hope and blackness, love and hatred, awakenings and falls. I wanted to go back to this name to operate some kind of link between the two projects which are for me closely related because I was also composing for Asphodèle and I was highly committed before the project faded… Sometimes you just have to move on, especially because this project was anyway very associated to the duo we were with Audrey Sylvain and the whole concept was born from our meeting. The mutation operated was something natural in the end.
Éclosion, your first album under the name of Jours Pâles, is about to be released with Les Acteurs de L'Ombre, are you satisfied with it? What made you think "the album is ready"?
Spellbound: I'm fully satisfied at all levels, but of course, and I think that the same for a lot of artists, maybe I would do things differently with the few objectivity I have now. But anyway, I'm more than proud and satisfied about how it ends globally talking and this album perfectly represents my state of mind and my current expectations. 
How did the composition process happen? Is it different from the one that gave life to Jours Pâles?
Spellbound: The process wasn't this different at the Asphodèle era. Éclosion was composed with the same instruments, the same places, the same way of working. My moods were obviously different and that's probably why I developed a more aggressive music on this first release, but in general nothing really changed in my creation process. In general, I simply take a guitar and I begin to compose riffs, it stays very instinctive and visceral… Then I structure and develop songs around of those firsts idea bursts.
Broadly speaking, how is it to collaborate with Les Acteurs De L'Ombre?
Spellbound: I get to work with Les Acteurs De L'Ombre since the third release of Aorlhac, my other band, and I now know quite good how this label works. How could I complain? LADLO is a qualitative label, composed of a solid team, and their range of competences is large. As well as for promotion, than for the visual or sound aspect, the accompaniment is very professional. So I'm more than satisfied to have their trust for Jours Pâles and I feel that a great collaboration is settling in between us.
The beautiful illustration is signed by Onodrim Photography, in which ways her work meets your music? How does the collaboration with the photographer happen?
Spellbound: Feedbacks on the artwork are unanimous until now, in the good way. I was groping about the artwork, and I discovered this picture. I naturally fell in love with it because I was thinking it embodies everything I was creating musically talking. The interpretation will be at everyone's discretion, but for me this picture is very strong, and it has a lot of meaning. The collaboration with Onodrim was simple. We reached her, and she agreed to give us the picture.
I felt on Éclosion an intense despair, a visceral rage and a tragic observation, surrounded by a melancholic, haunting and tearing musical basis, what does inspire you to write this album?
Spellbound: It's a melting of several things. First of all, I didn't find anything more exciting and nothing that made me feel more alive than composing or playing music. On the other hand and of course there's a link, I have something deep inside of me I need to bring out. It seems that music is perfect for uprooting the negative thoughts and torments of life that we all have to undergo in a way or another, so it's a way of living as much as a real need, more than a simple passion or a hobby.
We often hear a main voice full of sadness supported by different backing vocals, including screaming ones, in which way many vocals serve your lyrics?
Spellbound: I try to be as expressive as possible, so it goes through several kind of vocals: from the most screamed one to the most primitive one, through more Death or in opposite more clean ones, even singing voice because I now control this side of my voice much more. The fact to add several layers on the top of each other helps to add a powerful or aggressive impression and that's something I do since a while. According to parts, I really like this strong and wide effect of vocal superposition. When the music becomes more intense and full, I rather know let vocal be more discreet or only sing a main line, but I like the strong effect given by simultaneous voices. It also comes from the fact it's hard for me to decide which tone or which vocal style I want to give to a part, and as I have a quite large range into extreme vocals, I often add several vocal styles on a same riff, giving a thicker and more complete at the same time.
Like on your other projects, vocals are mainly in french, why did you choose to keep our language? Where does this very raw, sincere but still very vivid style come from?
Spellbound: Thanks for your observation. I don't think I'm really gifted to write texts, so I simply try to link the style and the content, and I try to make my words go the best possible with the song structures, in the end I'm very evasive while talking about very concrete facts. It seems natural to me to speak my mother's tongue, it's the one I'm the best at. As my english is only approximative, it wouldn't allow me to get in the depths of what I want to and to sincerely express myself. The only part of the album which isn't in french, is on the song Des jours à rallonge on Graf's vocals (vocalist for Psychonaut 4) who could only sing in georgian or english!
On this album, we have of course your voice, but also James Sloan's guitar, Christian Larsson's bass, and guest appearances from Graf, Lilas Ondine Dupont, Sylvain Bégot and Lonn. How did you get in touch with them to give life to the project?
Spellbound: Lonn didn't play on the album. He was supposed to play a solo on the song Eclamé, but due to time, he had to step down at the last moment, and I regret that. In addition to be a talented lead guitarist, he's also my brother. However I don't exclude he can join us on the next mischiefs. About the other musicians, as Asphodèle's first album, we had to begin from the scratch about the lineup and I simply reached or reached again musicians I really wanted to work with. It turns out that they all quickly agreed to join the project. Most of the people who took part are already known amongst of their respective projects. James with Uada, Christian Larsson with Apati, Shining and Gloson, Graf with Psychonaut 4, Sylvain Bégot with Monolithe, Ondine with Silhouette… and some of them also took part to the one and only Asphodèle album. That's really amazing to work with all those guys and I'm really proud of it.
The DSBM/Ambient Black side stands a lot more out of this album, what does catch you into those styles more from others?
Spellbound: It is true that I'm more caught by those melancholic styles dyed with Rock. I don't know, maybe softness anguishes me. Raw beauty lives in my opinion in this visceral and sincere aspect of dysthymia, sadness and hatred, all this semantic field, whatever the name we will put on it. All the Swedish scene, Lifelover and associates, I listen to this since years. It talks to me, it vibes and resounds in me, and I'm very sensitive to it. But I cover a broader range than only the Rock or Metal scene, and I think that there is melancholy in every kind of music and that's why I don't bind myself to no special kind of music.
The song that talks the most to me to date, is Ma dysthymie, sa vastitude. Can you please tell us a bit more about it? Where does this introductive sample come from?
Spellbound: This song required an effort about vocal recordings, because they come from far and are part of the most expressive and aggressive of the album, I think. This song melts several moods and the introductive sample comes from a report from the 90s named Drogue, dis-leur (a pun in french because "dis-leur" is pronounced "dealer" so the name sounds like "drug dealer", ed.). It highlights junkies facing the camera, people who don't denigrate their addiction, who sometimes regret it and they make the most trustful, alarming observation that especially touched me. The main spotlighted protagonist on this sample was also on the song Jours Pâles on the Asphodèle album. There is this kind of unconscious link I created between the two records and I globally think that this kind of ambience perfectly serves the statement.
What does represent for you french Black Metal against international Black Metal? Do you feel an evolution since you first came to this scene?
Spellbound: I don't really think about musical genres and I don't really care about what happens inside of the french or even the international scene… We were here back in 2007 with Aorlhac and I was barely twenty. I cannot tell you if the scene changed and in which way. I do my own thing in my part without really thinking about it!
I know that Covid-19 fucked a lot of things up, did it have an effect in any way on the album? How did you face the situation as a musician?
Spellbound: The period we know doesn't really had an impact on the composition or the album itself, it's of course harder about live shows because as you know after releasing an album, touring time comes so it's a bit bleak to release a CD during those times, and not being able to meet fans. So I hope that we will be able to get out of this deadlock and hit the stage again as soon as possible.
Did you plan anything special for the album release?
Spellbound: As I answer to you here, the album was released some days ago, and I simply had a little party to mark the occasion, made by Imperial Stouts and some champagne bottles, which is, you may agree, not really Black Metal.
What is your next goal with Jours Pâles? Can we expect the band to go on stage once the worldwide crisis will be behind us?
Spellbound: The next goal is indeed to go on stage as soon as possible. As I said earlier, I don't know where this masquerade will drive us but in any way we are actively getting ready. Of course the first album's lineup will not be viable so I try to hire, with the help of my friend Alex (also bass player for Aorlhac) and to gather a lineup which is also geographically coherent.
Aside of music, what are your hobbies? Is it easy to accommodate personal life, professional life and one (or for you several) musical project?
Spellbound: Unfortunately as music doesn't totally pays bills (yet) , I indeed have to work aside. It's hard to mix work and musical life, especially when your projects start to rise a bit, and you have to also get professional in music. It asks for a real commitment, it's very hard to live and a real step to pass through. But I am doing my best and I still see the positive, as passion has no limit.
To which french dish would you compare Jours Pâles' music? In which way are they similar?
Spellbound: I have to admit that I have no idea at all… I would say something sweet-sour or something hybrid that would make sense in the fact that Jours Pâles is hardly definable, but otherwise I don't know what to say. I will think about it for the next album!
Are there musicians you would like to collaborate with in the future, for the music of Jours Pâles?
Spellbound: Yes, even if I already feel really lucky to have the opportunity to already collaborate with people I admire and with which I would have think to be crazy or insane to only talk with, I still have names in mind that I really could add to the players. I consider Jours Pâles as a very open project about musicians' entries and exits. I don't exclude reaching for Niklas Kvarforth again for example, he was supposed to add vocals on the first Asphodèle album but due to tight schedules it couldn't get concrete. I also think about Kim Karlsson of late Lifelover. I'm convinced that nothing is impossible now so let's see what the future holds!
Last question: for which bands would you dream to open the stage? I let you create a tour with Jours Pâles as opener and three other bands.
Spellbound: Oh there are a lot of bands I could name but let's say opening for Psychonaut 4, Advent Sorrow and Shape of Despair would be nice!
Once again, thank you for your time, last words are yours!
Spellbound: I also thank you for your questions and notes. I hope that my answers will be enough for your readers to get satisfied, do not hesitate to listen the songs and support us on https://www.facebook.com/jourspales