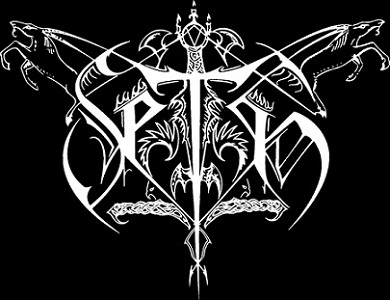 Seth, mythical french Black Metal band, is back with a sixth album.
Created in 1995, the band can count on Alsvid (drums, Ad Patres, ex-Enthroned) and Heimoth (bass, Sinsaenum, ex-Decrepit Spectre), its two founding members, as well as on Saint Vincent (vocals, Blacklodge, Vorkreist, The Arrival of Satan), Drakhian (guitar, Griffar, ex-Loudblast), Pierre Le Pape (keyboards, Embryonic Cells, Melted Space) and Esx Vnr (bass, Vorkreist, ex-Glorior Belli, ex-Merrimack) for La morsure du Christ ("Christ's bite" in french).
La Morsure du Christ, the eponymous track, has been chosen to open the album. Between dark melodies, infernal rhythmic, unhealthy howlings in french and majestic riffs, the band develops an unholy and visceral ambience, as sharp as tearing. Melancholy takes control of Métal Noir ("Black Metal"), a song that plays a lot on mesmerizing and dissonant leads, while the vocalist becomes more theatrical. Occult influences are slowly unveiled, as to invoke Lucifer, an important character in satanism. Sacrifice de Sang ('Blood Sacrifice") continues in this path, between unholy ritual, unhealthy riffs, majestic ambience and ranting accompanied by burning backing vocals full of rage. The singer's voice guides us through this manifesto to the glory of dark forces, while making hatred that lives into the musicians explode.
Ex-Cathédrale weaves the direct link with the artwork designed by Leoncio Harmr (Ars Moriendi, Wardaemonic), inspired by the fire of Notre-Dame de Paris' cathedral. Unholy influences and unhealthy sonorities live into the band's riffs and its burning discourse, that give birth to Hymne au Vampire (Acte III) ("Hymn to the Vampire"). The band's lovers immediately recognized the firsts two acts, which are released on the band's first album, that come back to life with this sharp and seizing composition. The majestic ambience bringed by plaintive keyboards create a contrast with lyrics' hatred, driving us to a keyboard final part, completed by a choir. The band continues with Les Océans du Vide ("Oceans of Emptiness"), a song that picks into Post-Black and its haunting sonorities, as well as Old School Black Metal and its raw riffs. Deep sounds melt to more ritualistic parts, then Le Triomphe de Lucifer ("Lucifer's Triumph") comes to close the album. The song plays on a hooking contrast between this rhythmic dissonant brutality and this oppressive atmosphere, that perfectly adds itself to the composition, offering a magnificent dimension.
Seth doesn't steal its status of french Black Metal legend. La morsure du Christ creates a permanent contrast between raw sound and majestic tones, unhealthy howlings and magnificent rhythmic, but also between unholy influences and heady riffs. A masterpiece.
95/100