Against Evil comes back to Heavy Metal basis.
Created in India in 2014, the band offers an EP in 2015 then an album in 2018. Quickly, Siri Sri (bass/vocals), M Sravan Chakravarthi (guitar/vocals), Shasank Venkat (lead guitar) and Noble John (drums) fly to Europe, where they record a live album, then the band begins to compose End of the Line, its second studio album.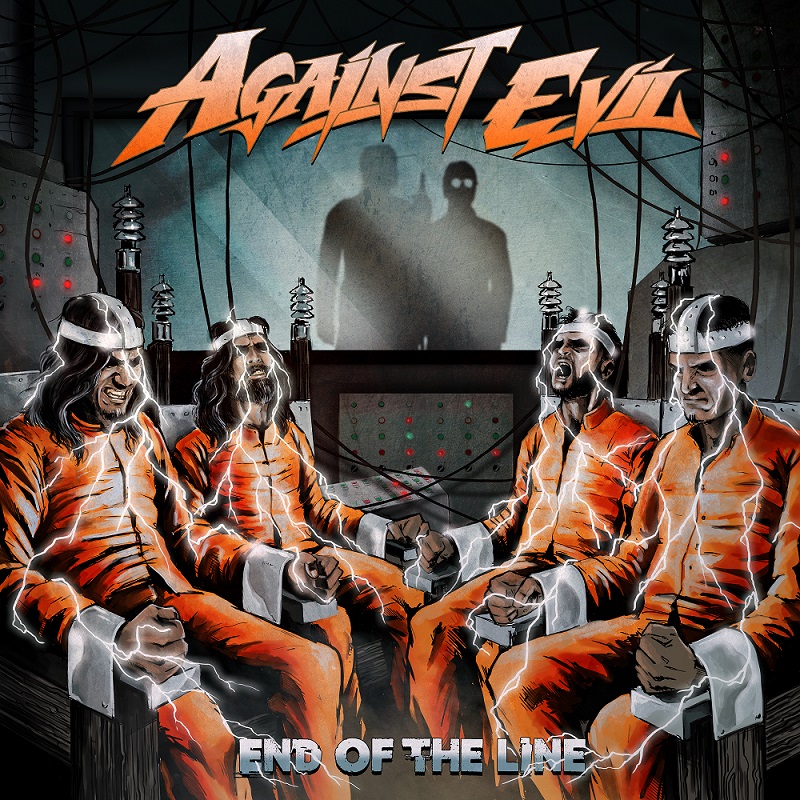 The band is recent, and its popularity is even more recent, but musiciens are driven by an Old School Heavy Metal inspired by the greatests and dyed with Thrash, Power and sometimes Speed. With those eight new songs, the band is determined to prove their increasing reputation is well deserved! We also have All Things Rotten for an artwork that stays in the same pattern than the previous ones, depicting the band.
All the characteristics of an Old School Heavy can already be find on the solid The Sound of Violence, a martial and catchy song, on which we already want to nod following the eighties rhythm. Mastery is also present into those vocals supported by backing vocals and into those piercing leads, like on the groovy Speed Demon, an energetic and explosive composition. The band welcomes Billy Sheehan (Mr Big, The Winery Dogs, ex-Talas, ex-David Lee Roth…) on bass for Out for Blood, a hooking and effective song that will easily convince worldwide crowds, while being dyed with some accessible Glam accents and a very heady chorus, while staying sharp, then we go back to heaviness for Call to War, a darker but as groovy as federative song.
A sample announces the beginning of End of the Line, the eponymous epic song, that is still into this martial and heavy ambience. The rhythmic is more than effective, and the many leads give it some Thrash Metal tones, while the band draws from Power Metal for Sword of Power, an energetic and seizing song. The track is quite motivating and will easily please to Old School sounds lovers, like the federative Metal or Nothin', a composition that already sounds like the band's next hymn. Whether the introductive sample is ready to unleash crowds, this simple and heavy rhythmic is ready to complete the task without a doubt. The band offers Fearless next, a song of which energetic harmonics galvanise us before closing the album with a re-recording of War Hero, one of the band's key songs, that can meet the band's expectations.
Against Evil has everything to be the next headliner. End of the Line proves two things. Firstly, the band perfectly knows its Heavy Metal lessons and offers solid and energetic songs. Secondly, they're far from stopping here, and they will continue to grow in the future!
90/100