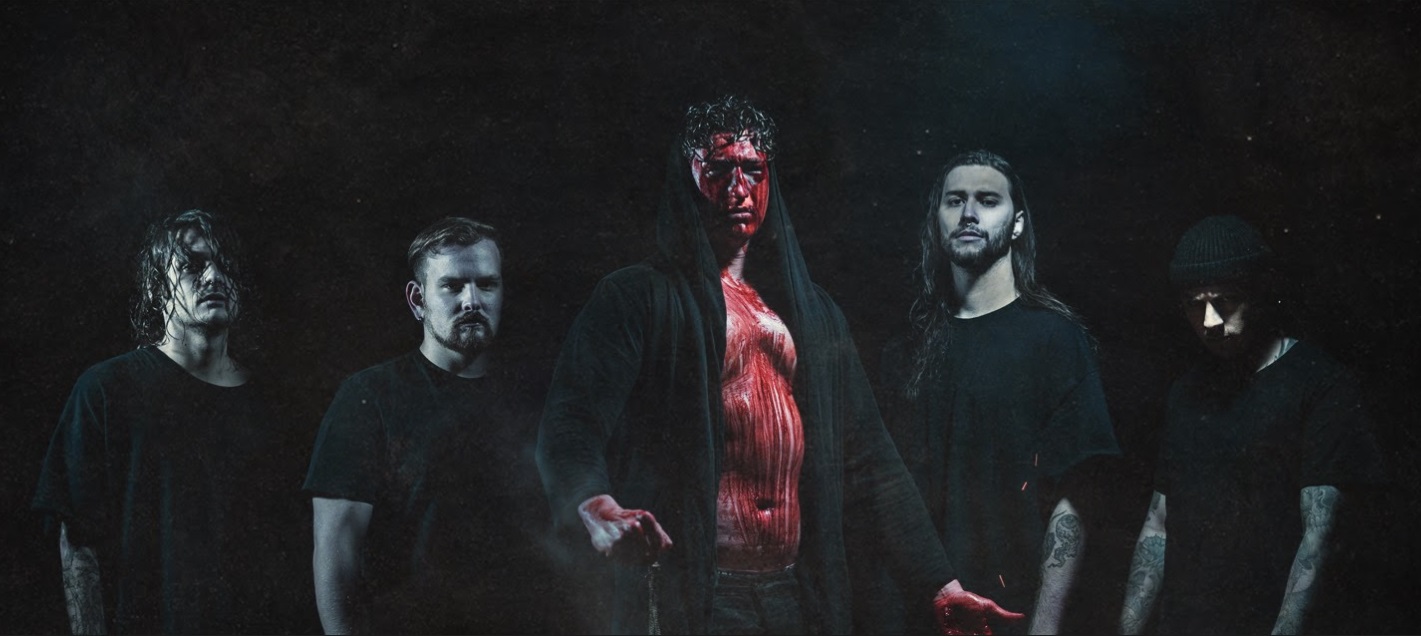 A Hill to Die Upon, Mental Cruelty's third album, is about to crush the world. Marvin Kessler, guitarist, songwriter and founding member of the band, answered my questions about this release.
Hello and first of all, thank you for your time! Would you please introduce yourself and the band Mental Cruelty for someone who still never heard about you?
Marvin Kessler (guitar): Hay, thanks for having me! I am Marvin Kessler, 25 years old, founding member, lead guitarist and songwriter for Mental Cruelty. Mental Cruelty is a Blackened Deathcore band from south Germany founded in 2016. We play a mixture of Slam, Deathcore and Black Metal combined with orchestra and choir.
Where does the name Mental Cruelty come from?
Marvin: Actually, it was the name of Lucca's first band which wasn't active anymore at this time. We both liked the name so we decided to just keep it for our new project.
The band is about to release A Hill to Die Upon, its third album. Are you satisfied of what you've done on this one? Do you already have some feedback?
Marvin: Yeah, I am really really proud of how this album turned out. This is 100% the sound I was searching for a long time. We've already got a lot of feedback and it's absolutely overwhelming, the people seem to love the new direction Mental Cruelty is going for.
What is the story behind this album? How does the composition process happen?
Marvin: It's really hard to describe. Most of the songs really just happened. Nahuel (Nahuel Lozano, guitar player, ed.) and I also went to Norway for 5 days with our studio setup so we could work and write new stuff. We rented a small cabin in the middle of the woods near a waterfall to get all the inspiration and the vibe Norwegian Black Metal bands have. Writing the songs was more or less a distraction from the fucked up reality caused by several private problems and of course the corona pandemic. We spent like half a year writing nonstop on this record and it felt like therapy for us.
For this new release, the band also changed its logo, why did you make this choice?
Marvin: You know, after 4 years with the same logo, especially from another era, the Slam era of Mental Cruelty, we finally felt that it was time for a new logo that would fit our new musical direction a bit better.
On this album, we feel that your Blackened Deathcore just reached some kind of paroxysm, between pure lumbering sound and unholy tones. Where does your inspiration to write music came from? Was it different from previous records?
Marvin: A lot of inspiration came through our private life, the last year was pretty depressive for all of us. I guess that's why the album sounds a little bit more emotional, honest and mature. Also bands like Behemoth, Dimmu Borgir, Lorna Shore and Fleshgod Apocalypse influenced us in our writing process.
About lyrics, I found more occult and satanic references, what does inspire you to write lyrics? What led you to this universe back in time? Do you feel an evolution since the beginning of the band?
Marvin: Writing the lyrics is mostly the work of our vocalist Lucca. I do a few things here and there but overall, I just help with bringing the lyrics into the right flow and phrasing. Lucca is totally into occult stuff, mythology and satanic history. As far as I know he gets a lot of his ideas and inspirations from the many books and texts he read.
Do you have a favorite song on this album? Or maybe one is more important to you?
Marvin: Ouh, that's a tough one, it is pretty hard for me to just pick one because the album is a concept album and you have to listen to it front to back. Every song is so different but leads you perfectly through this journey. If I had to pick one, I would say Ultima Hypocrita or The Left Hand Path.
On this album, you welcome Yo Onityan as guest guitarist on the song Ultima Hypocrita. How did this collaboration happen?
Marvin: Yo Onityan is one of the sickest guitarist I've ever seen live. Luckily, he jumped in for Lucas Mann on that Rings Of Saturn tour that we've supported back in 2019. We shared a night liner together, visited all the big European cities and had a great time on tour together. A friendship was born so we thought to our self, if anyone could spice up this song, it's Yo Onityan with his magic fingers and he did a fucking great job!
This album is also the first one since you changed one guitar player and your drummer, is it easy to welcome new members in a band?
Marvin: Changing members is always a bit difficult cause you don't know how it will work out in the end. Luckily, we just got 2 of the best musicians I know in this kind of music so it helped a lot on developing our new sound. I also got 2 new friends through this change and I can't wait to tour with my boys for the first time after this pandemic is over!
Unfortunately, Covid-19 fucked a lot of things up this year, how did you face the situation as a band? Did it change anything to the album?
Marvin: Well, the whole situation is pretty fucked up. I would love to play live again in front of big crowds, especially with the new album coming out this year. The only thing we can do is practice at home to be ready to perform as soon as everything opens again. On the other hand, the whole situation was so depressive for our second guitarist Nahuel and me that those feelings went straight into our new songs. So, in some ways I would say the situation helped us developing our new sound which feels more natural to ourselves. 
The band is already seven years old, did you think it will last this long?
Marvin: Actually, the band was found in the year 2016. So we are talking about 5 years, which isn't that long for a band to be around in my opinion.
Do you remember the very first time you picked an instrument up? How and when was it?
Marvin: Uh, that's a really long time ago and I can't remember this clearly. My father plays a lot of instruments and since I could think I sat on his lab and played piano with him, I was like 4 or 5 years old or something like that, since then I became addicted to play and try out instruments and now I am in love with playing guitar. 
What are your hobbies, aside from music of course? Do you still have to keep a job aside from your musical career?
Marvin: I've got a lot of hobbies like traveling around the world and visiting all the beautiful places on this planet. I am also a huge amusement park enthusiast and build my own model roller coasters as well as things with Lego. I got a huge Lego collection in my studio. Aside from my work as a musician I work for a biotechnology product development company.
You guys come from Germany, how is the Metal scene here? Especially the Deathcore scene?
Marvin: I think Germany has a pretty solid and strong Metal and extreme Metal scene. Shows are always crowded and the people in the scene seems to be supportive as fuck. Selling merch and CDs, talking to the people and hanging around with the fans after shows is no problem at all!
Do you know the french scene? Maybe you listen to some french bands?
Marvin: We've played a few shows in France and we love it there, the energy on French shows is crazy. One of the French bands I listen to a lot is Gojira, we all love them in our band.
What are your best and your worst live memories as a musician?
Marvin: Everyday on tour is still a dream came true for me so I would say all those memories are my favorite ones. The only bad memory I have from tour is that one day in Prague, where everyone on the tour bus got a food poisoning. 
Are there other musicians you would like to add as guests for the band's next releases?
Marvin: At the moment we are pretty happy with the way we did it on A Hill To Die Upon. We decided not to feature any guest vocalists on this record because we wanted to concentrate on our own songwriting without any influences from outside. We didn't want to give the control out of our hands when it comes to vocal techniques, flows and phrasing. Not that we didn't like features on records, we love it and had a few features like Infant Annihilator, Vulvodynia, Ingested etc. on our last records but we didn't felt it on A Hill To Die Upon.
To which dish or beverage could you compare Mental Cruelty? Why?
Marvin: I would say beer… I mean we are from Germany so, what else should I choose?
Which bands would you dream to tour with? I let you create a tour with Mental Cruelty as openers, and three other bands to headline.
Marvin: I would go with Behemoth, Dimmu Borgir with full orchestra and choir and Lorna Shore.
That was my last question, so once again thanks a lot for your time! Final words are yours!
Marvin: Thanks for the great interview and thanks again for having me!