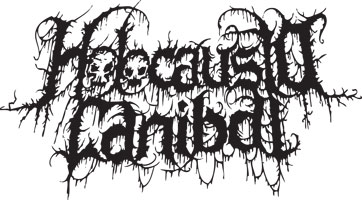 Holocausto Canibal celebrates its 25th anniversary.
For the occasion, the Portuguese band formed in 1997 and currently composed of Z.P. (bass, Grunt, The Ominous Circle), D.P. (drums, Pestifer, ex-Grunt), A.C. (guitar, The Ominous Circle, ex-Colosso, ex-Hacksaw) and R. Orca (vocals, Shadowsphere) presents us Crueza Ferina, its sixth album.
With its nineteen tracks, the band promises us a powerful album, catchy compositions, and raw riffs completed by wild and devastating screams, which start with Ad Bizarrem and its unidentified screams. The riffs are effective, and they lead us to the heart of the matter, to the marrow of the bone, to the pure violence: the short and crushing compositions infused to Brutal Death and Grindcore. To detail them one by one would be a waste of time for you as much as for me, since each of these tracks is made of the same basis of visceral aggression, massive howlings and thick influences. However, we have Robert Vigna (Immolation) on Êxodo Mortuoso, a strange dissonance on Sinaxe do Sepúlcro Tafófobo, a heavy and unexpected composition before the band returns to its simple and fast riffs or very old school influences with Aniquilação Suídea and Congregação da Flama Felídea, then the band gives us a slight break with Psicótico Interlúdio, an instrumental track that places airy melodies on the violent base. The second part of the album returns to the rage, including Suprema Dominância Taurina which takes time to slow down to use Death/Doom roots, Campas do Negro Breu and its killer groove or Quérulo dos Finados which mixes both elements. The album ends with Sortilégio da Perversão, a track that combines direct efficiency and some sampled voices to make us leave this horrific universe, just like the cover.
If you don't know about Holocausto Canibal, let their name give you a clue about their style. Crueza Ferina embodies violence, savagery and catchy patterns which make you want to rush into the pit.
80/100