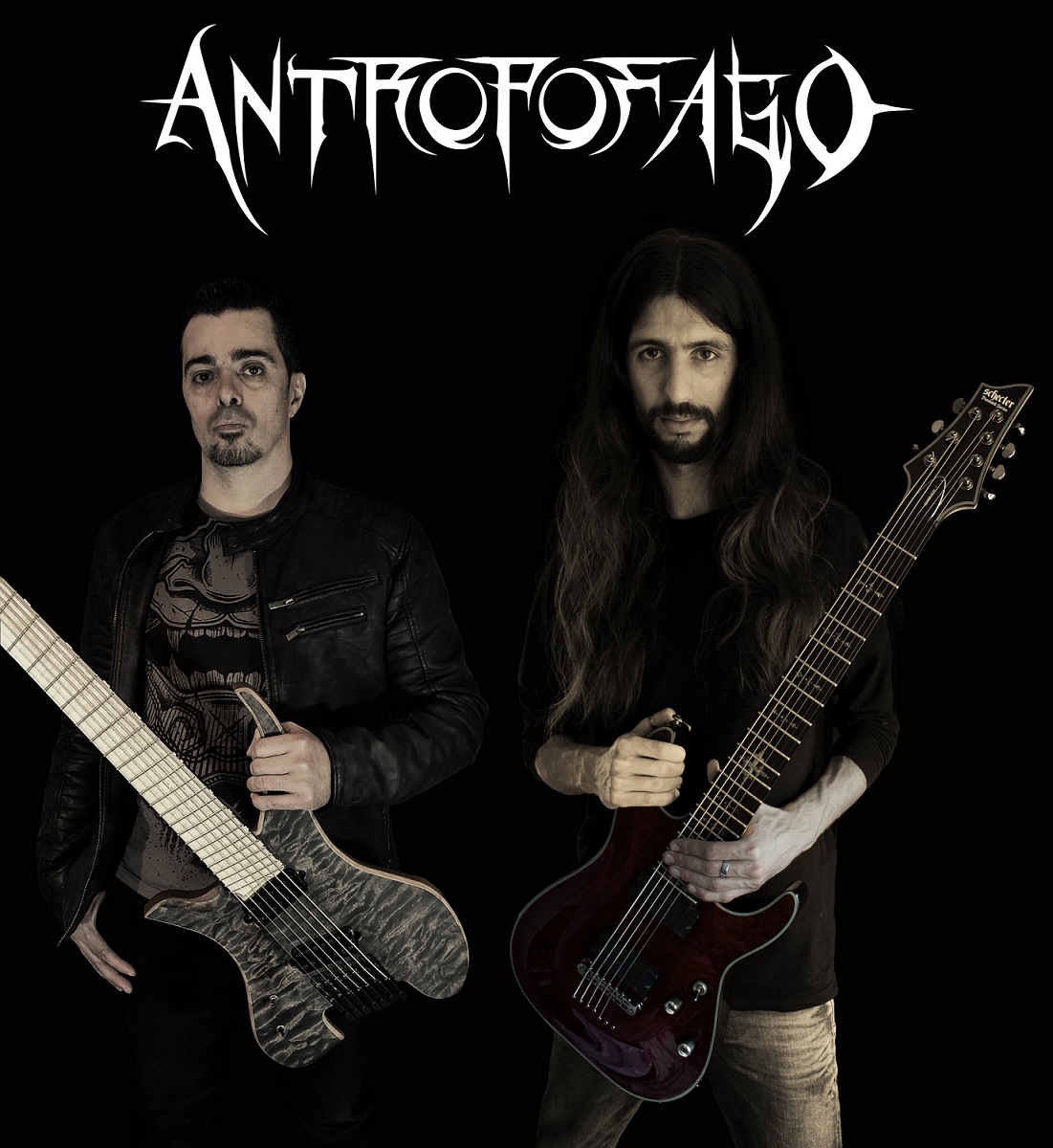 For the release of A Propensity for Violence… Cruelty Enslavement, their third album, I had the opportunity to ask Gordon Huillery, rhythm guitarist and founding member of Antropofago, and Clément Roig, lead guitarist, some questions.
A Propensity for Violence… Cruelty Enslavement review
First of all hello and thanks to take a bit of your time for my questions! Could you please introduce Antropofago with your own words?
Gordon Huillery (guitar): Hello and thanks to you! Antropofago is a Brutal/Technical Death Metal band from Montpellier. I had the project to create my own band when I relocated in the South of France in 2007. I realised that there was no band I could join. Before that, I always was "the second guitarist". I did my job but I only composed a few riffs and nothing more. We officially created Antropofago in January 1st 2010, when we released the demo. Since then, we made three albums and two EPs. And a bunch of shows everywhere.
How did the band's name was chosen?
Gordon: Actually, I was tired of english names. I wanted a more original name. Well, in the end it's fucking cliché but at least it's not english and it works for a lot of languages.
Your new album, A Propensity for Violence… Cruelty Enslavement, is about to be released, are you satisfied of what you achieved on this album?
Gordon: The sound is massive, compositions are cool and it's the most violent album we ever released to date. I explored new stuff about tuning too. But I'm in the period where I worked so much on it that I just cannot listen to it anymore for now. But I don't see any "filler" or "weak" track.
The album is a bit special, because it is made of the sixth tracks from your previous EP, as well as four new songs. How were those songs composed? Does it change from the usual composition process?
Gordon: It's a scam, you can say it! HAHA! We had the idea to re-release this EP as a physical version because it was only out digitally, but not without bonus, otherwise it wouldn't have been cool. I worked on the new album, and I still had some very violent compositions that I couldn't put on the new one, so we decided with Clément (Clément Roig, lead guitarist, ed.) to pick 4. So we have nearly 45 minutes on this album, I don't have the feeling to scam people. And those 4 original songs are slaughters. It's more violent than our average level, and at the same time I integrate very heavy riffs, nearly Slam, with more airy parts.
How were the recording, as well as mix/mastering steps?
Gordon: We worked as usual, I recorded and did reamping for all guitars, except solos, at home. Solos were recorded by Clément and a friend of the band, Alexis Blanc. Bass was composed and recorded by Alexis Ruinier, the band's first bass player. Clément did the mix at his studio (the Onyx Studio) and mastering was made by Geoffroy Lagrange from Paradise Studio.
Clément Roig: Everything was remotely done, from composition to mastering. We're used to work like this, and there was no problem. It only asks for organization to collect everything properly. As sound engineer and responsible of the mixing of this album, it was faster and smoother than the last EP, where I was seeking for myself. I begin to get used to mix Antropofago (or more generally Death Metal), and I know what Gordon likes (which is luckily what I usually like too!). We quickly validated the way the mix will follow and I didn't have big adjustments to do. It's usually a good sign when an album spontaneously comes to life in my opinion!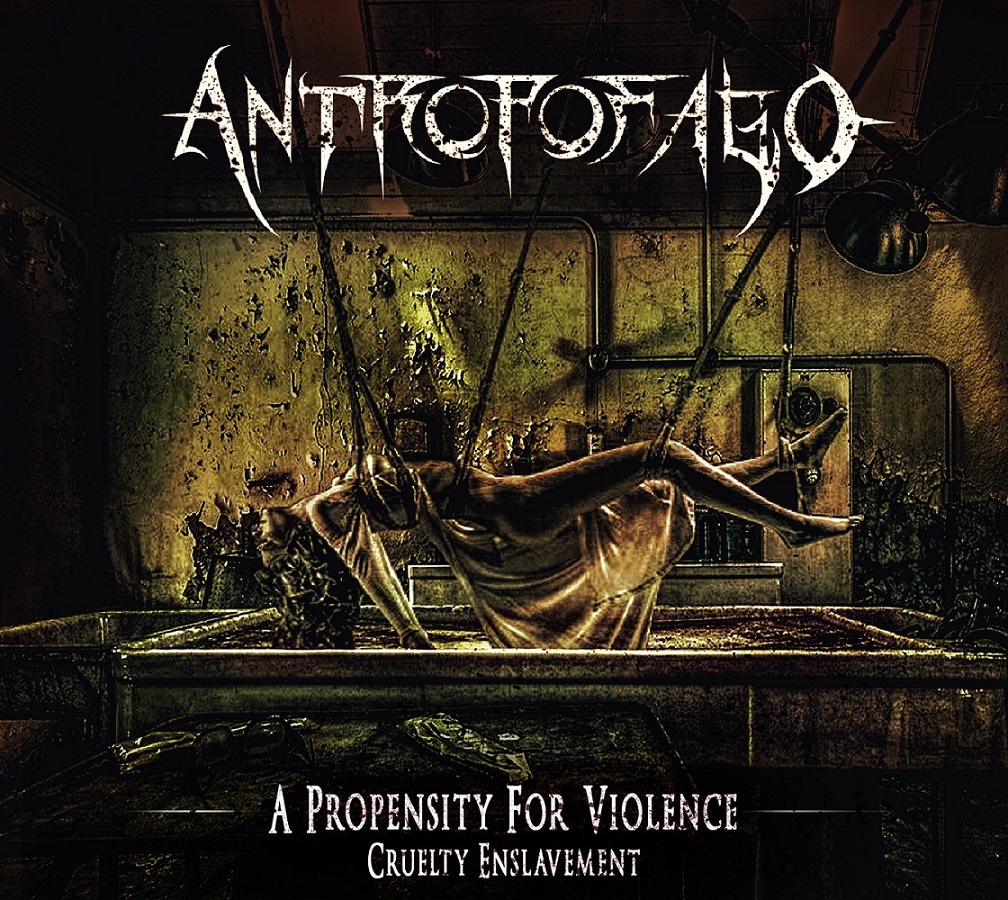 While we're talking about changings, could you come back to the recent line-up changes? I particularly think about Trivette's departure from vocalist job, who was replaced by Eris Capdeville, and the introduction of Théophile Cabaret on drums.
Gordon: It's some kind of chaos into Antropofago since 2016. We successively had the departure of Vincent (drums), Melmoth (vocals) and Alaric (bass). We faced a huge stop. We find another drummer (Flo), then we had two singers (Aurélie who is now with Akiavel then Nicolas) during two years. But this line-up broke too.
Then we focused on the studio. I saw that Trivette was looking to join a project, so I asked him. He was in since the moment he heard the songs, but it was only studio work, and we needed a live singer, but moreover we had to find a drummer. We had an audition for a drummer who lived near from us but in the end he wasn't experienced enough, but he introduced us to Eris, so it was positive. And Eris bringed Théophile on drums, who has a very technical basis. A huge potential. For now we work without bass player, but we have session members for albums.
What does it involves to change members inside of a band? Mainly the vocalist, and frontman, job.
Gordon: Antropofago simply works about musicians. Everything is written on Guitar Pro, I give files, the person works on it and during rehearsals we play it directly. We never compose during rehearsals. But about vocals, we did a great gap between Melmoth who comes from Black Metal, Trivette who is purely Brutal Death and Eris who mainly comes from the Core scene. Three very different personalities, but it's very pleasant to work with them. Eris already did two of the bonus tracks, and Trivette did the rest. I was happy to work with Trivette, he's insane. An amazing voice. Eris brings variation into vocals.
Let's come back to new songs, I felt some Grind hints, even Slam influences on the two lasts songs, what were your influences for those songs. Do you have influences aside from music? About movies, litterature…
Gordon: On those songs, I'd say Gorgasm! Violent, straight, effective. A true will to be aggressive. Tempos are the fastest we had until now. A big challenge. Integrating Slam and Grind riffs was a will to evolve, and not doing the same things forever. About influences aside of music, nothing of this inspires me for Antropofago.
The band already have more than ten years old, did you notice changes inside of the Death Metal scene? What about French scene precisely?
Gordon: It plays way better than before!! Including us… Our first album wasn't basical, but clearly below about technicity. We achieved to increase our playing while earning maturity and keeping our Old School catchy side. But I notice that there are less Technical Death Metal in France, the scene was purified. But what is left is qualitative. Old School comes back and that's a good thing. And the Slam/Core scene explodes. It evolves, that's great.
I know that Covid-19 fucked a lot of things up in 2020, how do you see 2021 as a band? Do you already have plans, to promote the new album for example?
Gordon: Well… very good question. Our goal is to get ready for shows. As long as we're locked, we will work as much as possible for the future album, which is already composed about drums and guitars. It will be a very ambitious album, so we will take the time to do it, and about time… we do have a lot unfortunately.
About that, how did you deal with the two lockdowns and restriction periods as a band?
Gordon: Personally very good, I work in food transport, so I had a lot to do! But we had to slow down to train Théophile. We will keep the positive and say that the next album advances a lot.
What are your hobbies in life, aside of music? Which career choices you would have done if music were not this important for you?
Gordon: I play video games a bit, I try to stay in good shape. I wake up very early to work, so it limits a lot other activities. Music never influences my career, it always was a balance in my life. Work time, work on guitar, composing, recording. I compose too much by the way…
Which was the very first Metal song you ever listened to? Which was the one that make you think "I want to create a band and play on stage"?
Gordon: Hit the Light from Metallica. This progression… huge choc. I didn't really listened to music before that. It came lately, I would have been… 15 years old. I started guitar at 17. It was really hard, I'm sooooooooo bad. Never had easiness with the instrument… It took me 3 years to know how to play some stuff. There was no internet, no Guitar Pro, we had to buy complete album tablatures. And as I don't have any theoretical basis… I had very hard times. But with a lot of work, I think that I can say it turned out pretty fine for me.
What do you like this much in Death Metal?
Gordon: The style's variety. We can do everything! Slow, fast, technical, add a groovy riff, arpeggios… I sometimes add Black Metal riff, it fits very well…
What if I ask you to compare Antropofago's music with a french dish? Which one and why?
Gordon: Cassoulet. It's greasy, heavy, you spread it everywhere and there are still marks after that…
What is your best and your worst experience as musician? Do you have any regret with Antropofago?
Gordon: The worst is when people shit on you after you leave a band. That's never pleasant. But I'm not the most flexible person…
The best was to open for Sepultura and to play at Metaldays in 2015. Really an important step. We were here, inside the Technical Death Metal scene. Without being a huge band obviously, but we were taken seriously. I don't ask more.
Last question: which bands would you dream to tour with? I let you create a tour with Antropofago and three other bands!
Gordon: I'm, going to cheat a bit! We will do a french tour and a worldwide tour.
For the french tour: Benighted / Gorod / Exocrine / Antropofago
For the worldwide tour: Nile / Hate Eternal / Cattle Decapitation / Antropofago
I think that it's going to be pure delicacy…
It was the last question for me, once again a huge thank you for your time, lasts words are yours!
Gordon: Thanks for this interview, it feels good to release an album again, the artwork is wonderful and we cannot wait to defend it on stage! See you soon!